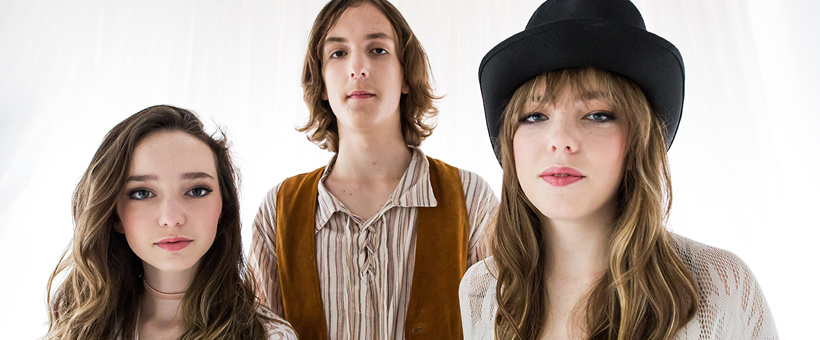 The Buckleys are a teenage sibling trio from Australia. Performing internationally to crowds of up to 60000 people and having won 2 American Songwriting Awards, at only 14, 16 and 17 years old they have have co-written songs with numerous GRAMMY Award winning songwriters and have played a phenomenal number of internationally renowned festivals, events and concerts including Music City Roots (Nashville) broadcast on PBS American Public Television - Hosted by Jim Lauderdale, Sydney Carols in the Domain (Australia's biggest Christmas Concert), Tamworth Country Music Festival (ToyotaPark Stage and Capital theatre), Byron Bay Blues Festival, Bluebird Café and Douglas Corner (Iconic Nashville Music Venues), Academy of Country Music Australia, Opened for Brian Cadd and The Bootleg Family Band, Cooly Rocks On, Caboolture Country Music Festival, Mullumbimby Music Festival and many others.
Whilst touring both Australia and the USA, just some of the #1 Hit writers they have collaborated with include Rafe Van Hoy (Golden Ring – Alan Jackson & Lee Ann Womack/George Straight & Martina McBride; Also written for Fleetwood Mac, Diana Ross and more), Bruce Channel (Wrote Hey Baby/If you'll be my girl), Doug Gill (Songs by Alison Krauss, Tammy Wynette, Marshall Tucker Band, Don Williams), Jim Photoglo (Fishing in the dark – Nitty Gritty Dirt Band/Garth Brooks), Lynn Langham (Credits include Emmylou Harris, Johnny Cash, Jerry Lee Lewis), Debby Throckmorton (Willie Nelson / Sony ATV / Carnival Music), Melissa Fuller (Writers Den Music Group), Jason Nix (SONY ATV) and many more. In October of 2016, the young family trio signed an international record deal with independent label Golden Robot Records/Social Family Records.
Based in the Northern Rivers of New South Wales, Australia, the group consists of Sarah Grace Buckley (17yo–Lead Vocals, Acoustic Guitar), Molly Buckley (14yo–Vocals, Mandolin) and Lachlan Buckley (16yo–Electric Guitar, Slide Guitar). Growing up in musical family (Their Dad the former drummer of Legendary Australian Rock'n' Roll band The Radiators), from a young age they were exposed to a diverse array of musical genres including Country, Swing, Motown, Rockabilly, Rock'n'Roll, Bluegrass, Blues and Jazz. From Patsy Cline to The Rolling Stones, Kasey Chambers, Keith Urban, Nat King Cole, Ray Charles, The Eagles, Brian Setzer etc. music has always been intrinsically apart of their lives.
The group officially formed in 2011 when on a family holiday at the Tamworth Country Music festival. Jamming on Peel street, they were notified the following day that they had made the top 10 in the Tamworth Country Music Festival busking competition (Not knowing they were in any competition!), with over 600 acts competing. They were invited to perform on the main stage to some thousands of people the next day. From there, the band have gone on to perform with many of the greats including Jim Lauderdale, James T from American Blues Band Canned Heat, Bill Chambers, The Kentucky Headhunters, Rafe Van Hoy, Smokin, Joe Robinson, Carter and Carter and many others. Sarah, a graduate of the 2014 Academy of
Country Music in Tamworth, was awarded top 5 in the 2014 American Songwriting Awards (in association with Gwen Stefani) for her song Running Away released by The Buckleys, and the following year both Sarah and Molly were once again nominated for a prestigious ASA Award for Best of the Best. Amalgamating their love for, and upbringing in, Country Music with the influence of Rock n Roll, Blues, Motown, Swing, Jazz and even Funk, their unique sound and honest lyrics create an appeal that resonates with multiple genres and across numerous demographics.