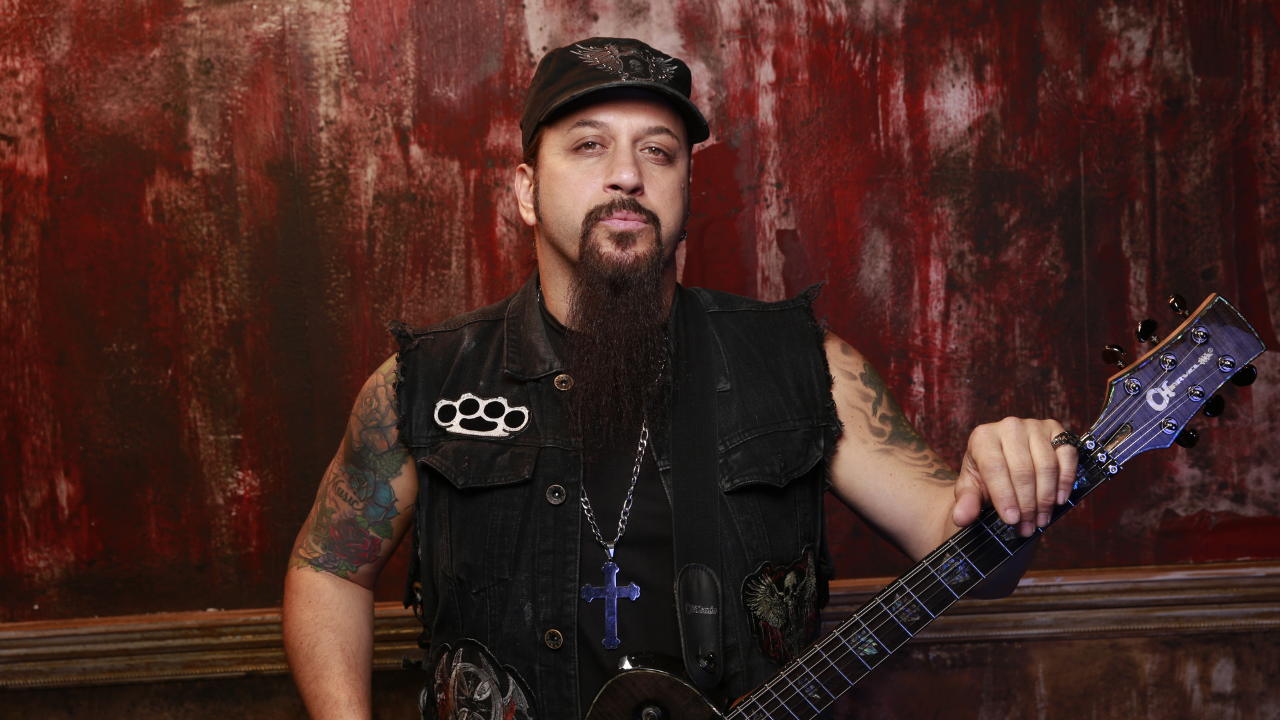 Dance of the Damned
Mike Orlando, Andrew Freeman, Aquiles Priester, Sean Tibbetts
Dance of the Damned is the newest incarnation of powerhouse musicians that believe in the combination of songwriting, high level musicianship and also share a passion for heavy music.
The band is made up of four critically acclaimed musicians that includes guitar virtuoso Mike Orlando , drummer Aquiles Priester, bassist Sean Tibbetts and Vocalist/guitar player Andrew Freeman.
All hailing from different silos of hard rock, the four came together to create their new record, Dance of the Damned (Crusader Records) to be released in 2022.
Mike Orlando is well known to fans as he is the guitarist and founding member of the explosive hard rock group Adrenaline Mob, Brazilian metal act Noturnall & his blistering solo work from Sonic Stomp.
Andrew Freeman is a vocalist and guitarist who has worked with Offspring,Lynch Mob and is one of the founding members of supergroup Last In Line. 
Drummer Aquiles Priester brings his blazing drum expertise from his roots with the Brazilian metal heroes, Angra and has also played with WASP,Tony McAlpine,Dragonforce & more.
Mike says, "Instead of following a musical path or road already taken, my manager Michael Caplan encouraged me to write what I was feeling and create a new path. Dance of the Damned is that newly paved road.
The record encompasses all elements of rock, metal and its surrounding genres. We captured a unique blend along with outstanding musicianship and huge hook driven in your face vocals that immediately pulls you in. It's an absolute honor to be launching this new band with Andrew and Aquiles. "
Mike Orlando served as producer, musical writer/arranger & has mixed & mastered this debut album at his NY recording facility Sonic Stomp Studios.
Rock fans will be instantly mesmerized by the expansive guitar & bass work combined with Andrew Freeman's soulful & searing harmony laden vocals and Aquiles Priester's outstanding and inspiring drumming.
Recorded throughout the pandemic, these masters of their craft came together to push the limits of their musical boundaries. Dance of the Damned was produced by Mike in his NYC studio with Andrew and Aquiles recording their parts in separate locations. Andrew not only handled all vocal arrangements but also wrote the majority of the lyrical content of the album as well. That separation was no limit for these three as they created hard rock magic. 
Andrew says, "I was able to build melodies and lyrics over what was already a sonic masterpiece. It is the fastest, most powerful music I've ever been involved with. Mike and Aquiles weave in unison through intricate arrangements like two fighter jets flying in tandem. 
It's as if they communicate telepathically. I can't wait for fans to hear this record." 
Aquiles Priester adds: "I'm so excited to be part of this new project. Since I recorded the album I can't stop listening to the tracks every day. Since Andrew, Mike & myself all play with different bands and we have different styles, the tracks sounds absolutely amazing and totally different from what we all have done before".
Single tracks and videos will be released early 2022 on Crusader Records (Golden Robot Records).