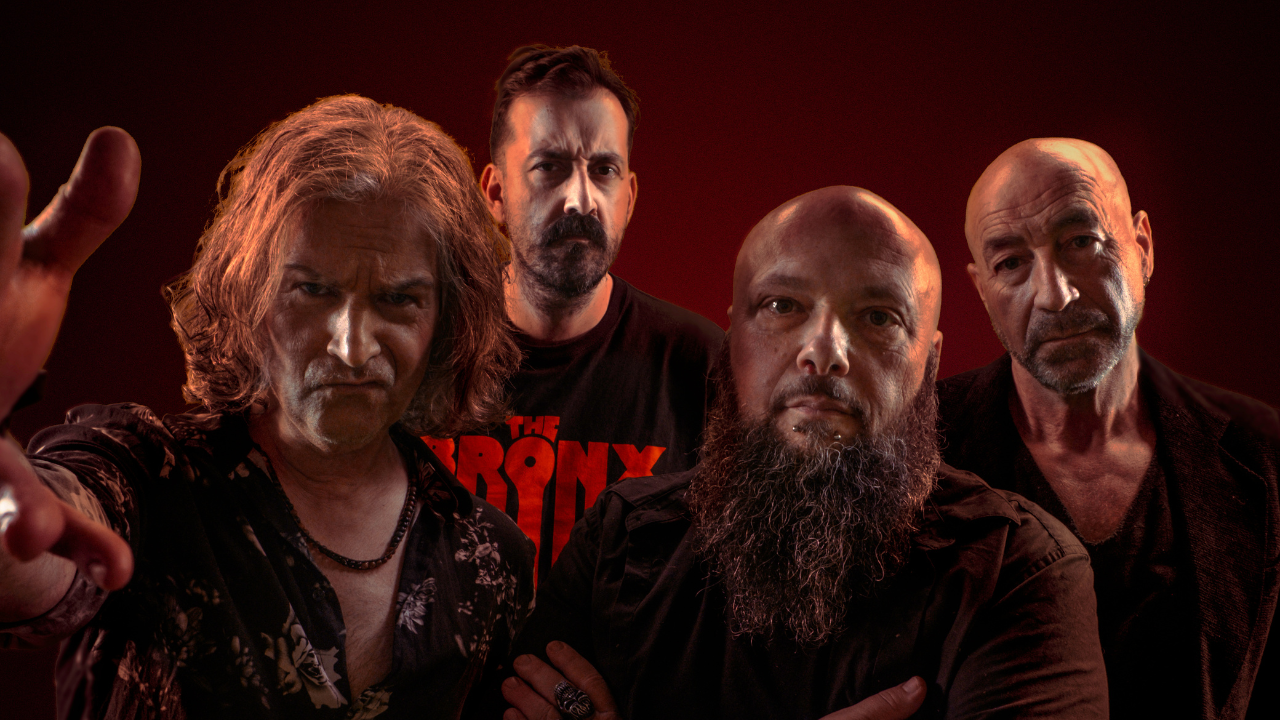 Last Temptation
The first important step has been mastered effortlessly. Following their successful album debut and enthusiastic reviews in countless music rags, shows with bands such as Dream Theater, plus festivals such as Hellfest, the band surrounding guitarist Peter Scheithauer (Killing Machine, Belladonna, Temple of Brutality) and vocalist Butcho Vukovic (Watcha) is all set to embark on the second stage of its career in summer 2022. Last Temptation have signed a new recording deal with Golden Robot Records / Crusader Records and presented four new singles between June 2021 and April 2022.
"You can feel that we've made a major step forward, both as a live band and as songwriters, thanks to the shows we've played so far," Scheithauer rejoices over his band's remarkable development.
'Fuel for my Soul' benefits mainly from the new material's broader stylistic range. Scheithauer says, "Our classic hard rock definitely features a wider selection of styles. The Ozzy Osbourne influence, which we didn't want to deny on our debut, is still there, but in addition there are also a number of more modern tracks, plus two fast numbers and a Kiss-style song. 'Last Temptation' didn't feature such a wide variety of musical directions. Listening to the material, you can hear that the new line-up practiced the songs intensively at the rehearsal room, which makes them sound absolutely homogeneous and cohesive."
Talking of the new line-up, bassist Julien Rimaire (Los Dissidentes Del Sucio Motel) and drummer Farid Mejabe (Trust), Scheithauer and Vukovic have a whole new rhythm section supporting them for 'Fuel for my soul'.
While Last Temptation's self-titled debut still boasted a number of international guests, such as Bob Daisley, Vinny Appice, Stet Howland, James Lomenzo, Don Airey and Rudy Sarzo, the band now consists exclusively of European musicians.
"This step was necessary to make Last Temptation more flexible when it comes to the organizational side," explains Scheithauer. "The new line-up makes it so much easier to rehearse spontaneously, play gigs at short notice and prepare album productions."
No doubt about it, Last Temptation have grown into an even tighter unit, musically as well as logistically, and are positively bursting with enthusiasm. The song-writing team consisting of Scheithauer and Vukovic came up with 60 tracks for 'Fuel for my soul', eleven of which have made it onto the album, ranging from up-tempo numbers such as 'Stronger Than Fate' and 'Free Strong And Loud' to the Black Sabbath-esque 'Going Crazy' and the ballad 'In The Mirror'. The choice of subjects covered by songwriter Vukovic on the new offering is similarly interesting.
Scheithauer says, "'I Don`t Wanna Be Your God', for example, has God addressing mankind to explain that he no longer feels responsible for them due to the alarming way they have been treating each other. He says, 'Sorry, but I'm giving up'!"
A clear contrast to the band's philosophy, especially with regard to their fans. "At our shows, we always pay close attention to what kind of songs go down best with our audience, which is something that 'Fuel for my soul' definitely benefits from. Our latest tours with Scorpions, Black Label Society, Ayron Jones and stages like the mainstage 2 at Hellfest 2022 prove how well the new numbers fit into our live set. I hope we'll see you when we're back on tour!"
Last Temptation is already at work for their third album to be recorded in September 2022. The band will resume touring in support for 'Fuel for my soul' in Fall until winter 2022 and plan on touring during 2023 and release the new album in Spring 2023.