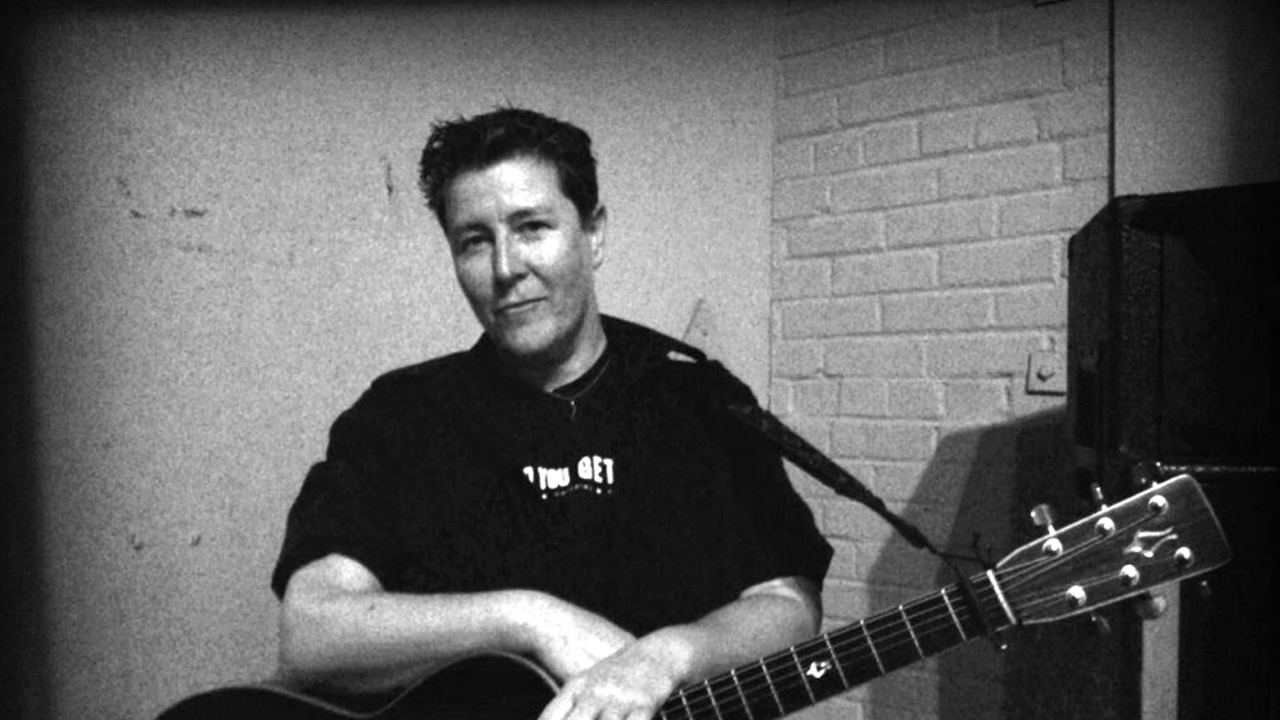 Jackie (Jack) Strano is a SF Bay Area Singer-Songwriter, musician, frontperson, and a force to be reckoned with! Strano is a music scene veteran through and through. From her solo act as an Alt-folk Gothic Americana artist to fronting the punk rock band Ladykillers (also on Die Laughing Records) Strano's talents know no bounds.
Strano was also an integral part of the fomation of The Hail Marys, creating the  Trans-Butch Queer gender non-conforming non binary sound of the band as their singer/songwriter. Fronting the popular 90's all queer band has given Strano the opportunity to perform on stages from coast to coast from CBGB's in NY to the Fillmore in SF.
Strano is the founder and singer/songwriter/guitarist for current queercore rock band, Ladykillers.  Strano's songwriting catalog includes a recent digital single called Smash (the) Patriarchy recorded by LadyKillers and released on Die Laughing Records on 8/30/19 as well as 2 independently recorded solo albums as well as several albums with The Hail Marys. The Hail Marys' music with Strano's lead vocals are featured on the soundtrack of the Hollywood noir lesbo classic, Bound  by the Wachowski Sisters who did The Matrix franchise. Strano's music is featured in other history making productions including Sundance Selection 2003, Radical Harmonies, a documentary about the origins of women's music. Strano is first generation American, born in Canada and the child and grandchild of Holocaust survivors and featured in this haunting article about her cousin who was killed in the Sobibor Death Camp during WW2.
Strano has been an integral part of a few revolutions including the sex positive feminist movement and is a longtime activist and community organizer. Back in High School, Strano fronted a rock band that gigged steadily and made decent money and Strano has never stopped writing, recording, or performing since while still raising a family with their longtime partner, Shar Rednour. Besides their solo career, Strano founded The Hail Marys, Building 80, Low Sky Echo, The Passengers, Strano & Reed, and was a regular member of The Servants who recorded their debut album at The Record Plant in Sausalito. Strano's prolific and intense songwriting has inspired various productions including the short narrative film, Override by Director, Lisa Ginsburg and Alley of the Trannyboys by groundbreaking vanguard Transman filmmaker Christopher Lee. 
Strano has been featured and quoted in various publications including Playboy, Playgirl, Cosmopolitan, Self, Salon.com, The Stranger, Chicago Reader, Washington Blade, News & Review, Village Voice, SF Bay Guardian, East Bay Express, Bay Area Reporter, and various other publications and in documentaries including Hot & Bothered: Feminist Pornography, HBO's 6 part series Pornocopia, KRON's The History of Sex in San Francisco, and UK's The Truth About Lesbian Sex.
Jackie Strano has been featured in several anthologies and studied poetry with Beat Poet, David Meltzer in the Master of Poetics program at New College of CA in SF and was published in their literary journal Cayati 17 in 1989.