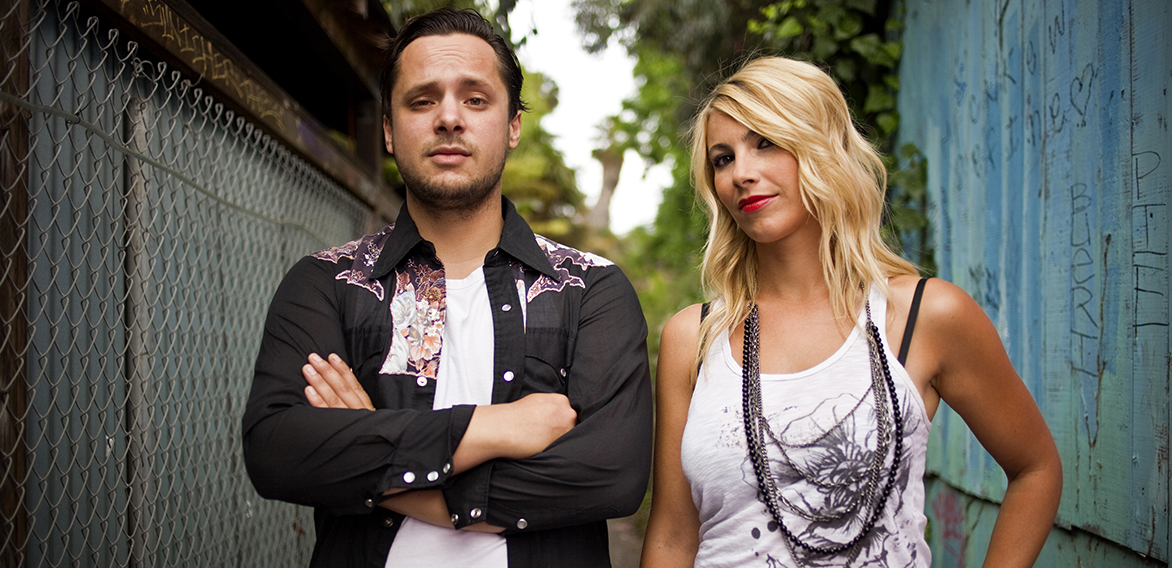 YARD OF BLONDES
Heavy, dark, edgy and reminiscent of the 90's rock : With its detuned guitars, haunting vocals and thumping rhythm section, Yard Of Blondes « You and I &  I » is the new alternative rock from the land of grunge. The emerging French/Californian rock band YARD OF BLONDES is composed of Vincent Jacob (vocals/guitar), Fanny Hill (bass/vocals), Burak Yerebakan(guitar) and Forrest Mitchell (drums/vocals).
With their female bassist, their raw energy and influences we can't help but being reminded of bands such as Sonic Youth, the Pixies and the Smashing Pumpkins.
Yard Of Blondes released 3 EP's since 2011, was featured along with Eric Burdon (The Animals) and Victoria Williams on the Hi-Desert compilation "Highway 62 Love Songs », and were remarked in 2013 by Rodney Bingenheimer, legendary KROQ DJ, who began playing their track Murderology. He was then imitated by more than 100 international radio stations (KROQ, Kerrang!, Doble Nueve…) . In 2014 French National TV France4 broadcasted a 60 minutes documentary about the band and in 2016 the band was featured on the compilation «I love you all the time» along with Eagles Of Death Metal, Florence & The Machine, Kings Of Leon, JimmyEat World and many more. All the proceeds were given to the victims of the Paris attacks.
During the summer of 2019,Yard Of Blondes came back with a lighter and upbeat single called «Je veux danser tout l'été», their first original bilingual song. The song came along with a remix by French superstar DJ and producer Joachim Garraud (David Bowie, Beyonce, David Guetta). The track is still broadcasted on French National channels (C-Star, France Television, MTV France …).
On Nov.1st 2019 Yard Of Blondes released the 1st single off upcoming album « Feed The moon ». The song featured a special guest: Davy Portela (Pleymo); both the song and the video were well received, especially in USA, France and Latin America.