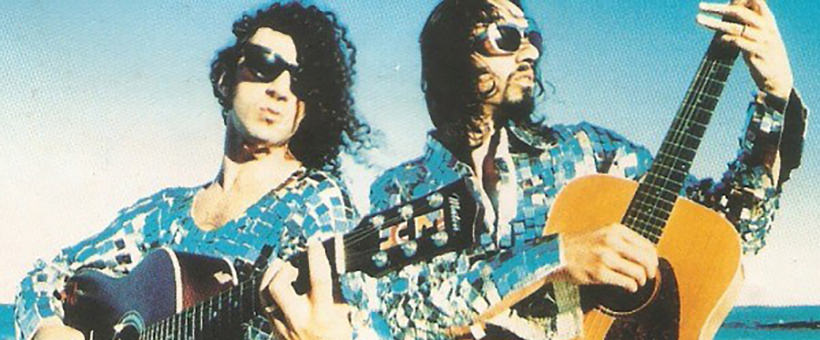 Electric Hippies is an Australian band formed by ex Noiseworks members, Justin Stanley and Steve Balbi. The pair also used the same name for their production work. They released a self titled album in 1994 and had a top 30 single with "Greedy People".  For his work with Electric Hippies, film maker Bob Ellis received a 1995 ARIA Award nomination for Best Video for "Greedy People" and artist, Simon Anderson, received an ARIA Award nomination for Best Cover Art for Electric Hippies.
Justin has gone on to forge a career in producing and songwriting. He has toured and recorded two albums with Beck, including the soundtrack for Nacho Libre. He has also worked with an eclectic range of musicians including Prince, Jimmy Cliff, Leonard Cohen, Paul McCartney and Snoop Dogg. Some of the artists Stanley has produced include Eric Clapton, Sheryl Crow, Jet, Jamie Lidell, Nikka Costa, Jimmy Fallon, Mark Ronson, Mocky and Ryan Bingham. Justin lives in California with his wife, Nikka Costa.
Steve is a much loved musician and record producer. He was the founding bass guitarist for pub rockers Noiseworks in 1986. He joined Mi-Sex in 2011. Balbi issued his debut solo album on Social Family Records, Black Rainbow, in October 2013 which received critical acclaim. He has produced many albums for Golden Robot Records ranging from Toe to Toe, Moon, The Kids, Fyre Byrd and most recently worked on a new Glenn Shorrock / Little River Band greatest hits album.
GRR is very proud to re-release the original Electric Hippies album and is excited that Justin and Steve are 100 percent behind the project, with the pair reuniting in Los Angeles in August 2018 to record brand new tracks for the re-release as singles.