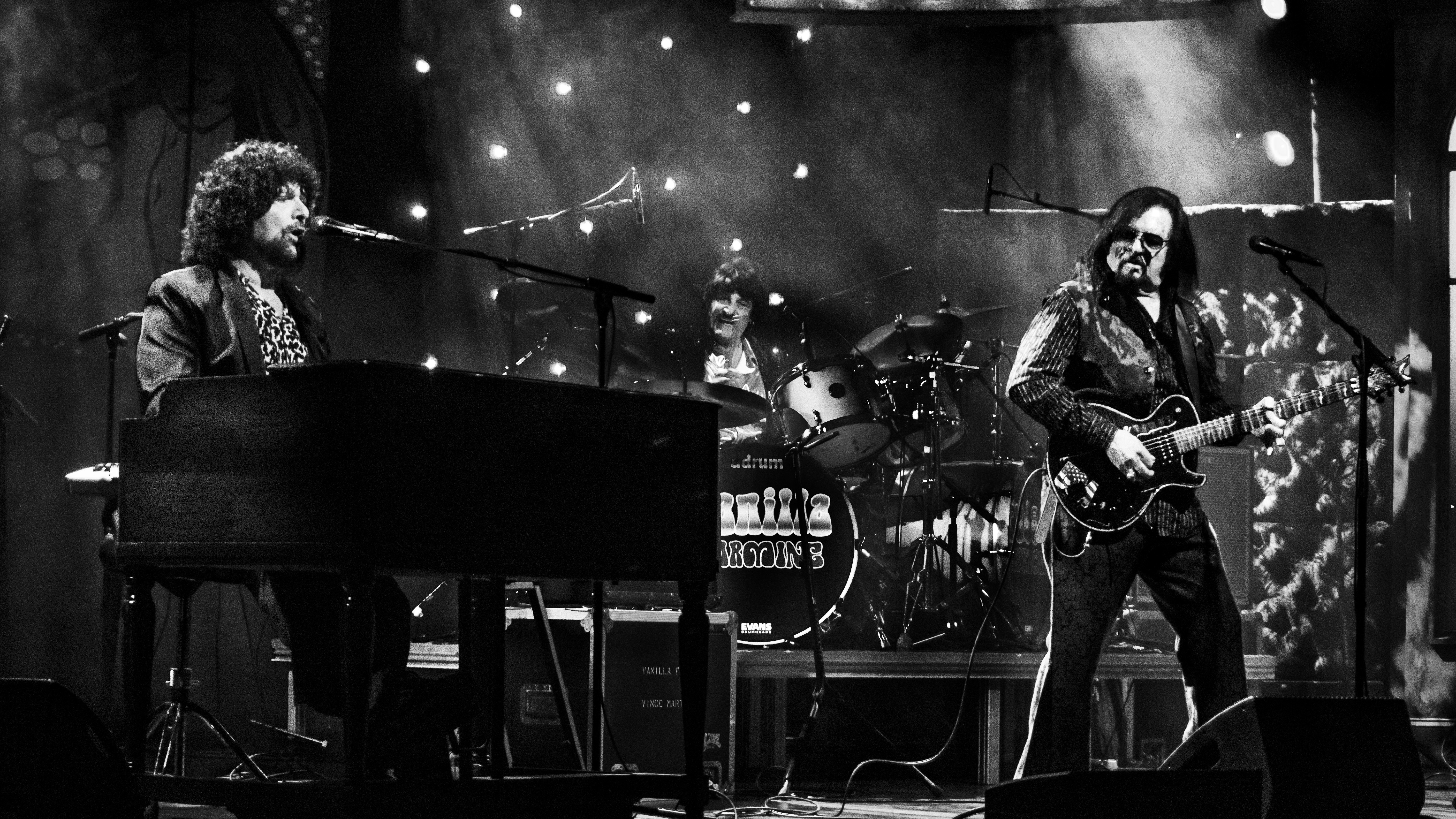 Vanilla Fudge
Vanilla Fudge was one of the first American groups to infuse psychedelia into a heavy rock sound to create "psychedelic symphonic rock" an eclectic genre which would, among its many off shoots, eventually morph into heavy metal.
Although, at first, the band did not record original material, they were best known for their dramatic heavy, slowed-down arrangements of contemporary pop songs which they developed into works of epic proportion.
Originally, Vanilla Fudge was a blue-eyed soul cover band called The Pigeons, formed in New Jersey in 1965 with organist, Mark Stein, bassist, Tim Bogert and drummer, Joey Brennan, and guitarist, vocalist and US Navy veteran, Vince Martell. 
They built a following by gigging extensively up and down the East Coast, and earned extra money by providing freelance in-concert backing for hit-record girl groups. In early 1966, the group recorded a set of eight demos that were released several years later as "While the World Was Eating Vanilla Fudge."
In 1969, while immersed in extensive touring, Atco released the expansive, symphonic-tinged record, Near the Beginning. Among the group's many TV appearances on legendary shows were Dick Cavett, Merv Griffin Show, David Frost, Where The Action Is among others.
The group did a TV commercial for Braniff Air, and also recorded a radio commercial for Coca Cola with guitarist Jeff Beck, a fill-in for Vince who was unable to be there that day. This event gave rise to the eventual creation of a Cream-styled power trio featuring Beck, Bogert and Appice.
Exhausted by the constant touring, the Vanilla Fudge decided that their late 1969 European tour would be their last. Following the release of their final album, Rock & Roll, they played a few U.S. farewell dates and disbanded in early 1970.
Bogert and Appice first formed the hard rock group Cactus, and then later joined up with Jeff Beck to form Beck, Bogert & Appice. Appice went on to become an active session and touring musician, working with a variety of rock and hard rock artists. Mark Stein formed Boomerang and went on to tour and recorded with The Tommy Bolin Band (Deep Purple), Dave Mason and Alice Cooper.
Mark also hooked up with Madison Avenue ad agencies and sang on TV & Radio commercials for a while and had a Budweiser commercial featured on the Super Bowl.
Vince continued to perform, record, teach and host his own radio shows in the tri-state New York area.
In 1995, Vince's guitar work on the intro to"You Keep Me Hanging On"was rated the number four heaviest guitar riff of all time in classic rock by Guitar Magazine.
Tim's unique combination of melodic ingenuity, and gutsy roaring speed, brought new dimensions to the role of the electric bass player.
Tim went on to become a milestone teacher at Musician's Institute in Los Angeles and he is considered a bass legend.Vanilla Fudge reunited in 1984 and recorded a new album, Mystery, which also had Jeff Beck as a guest artist.
In the summer of 2006, the original Vanilla Fudge reunited to tour with The Doors of the 21st Century; it culminated in a VH-1 special, "Decades of Rock."
The group currently continues to tour in the USA. In August of 2007, they performed at Radio City Music Hall with Deep Purple another opening act for the Fudge in the sixties.
Critics praised the Vanilla Fudge's performance that night as one of their greatest! On October 15, 2006, Vanilla Fudge were inducted into the Long Island Music Hall of Fame by Felix Cavaliere for their contribution to music history.
Other inductees were Billy Joel, Joan Jett, and Twisted Sister to name a few. Also in 2006 they recorded a tribute to their old friends Led Zeppelin by creating their own interpretations of their music on their CD, "Out Through The In Door."
They performed on Late Night TV Show with Jimmy Fallon NBC TV on March 28, 2011. The band just returned from The Moody Blues Cruise out of Miami, Florida with 16 other bands, a great time was had by all.
Vanilla Fudge celebrated their 50th year Anniversary in 2017 and are still rocking the world in 2020 with one of their greatest hits "You keep me hanging on" just featured in the New Quentin Tarantino Movie "Once upon a time in Hollywood".
Golden Robot Records is honoured to now be part of their legacy with two new album releases in 2021.
Latest singles "Immigrant Song" and "Rock and Roll" OUT NOW on all digital streaming platforms thru GRR.