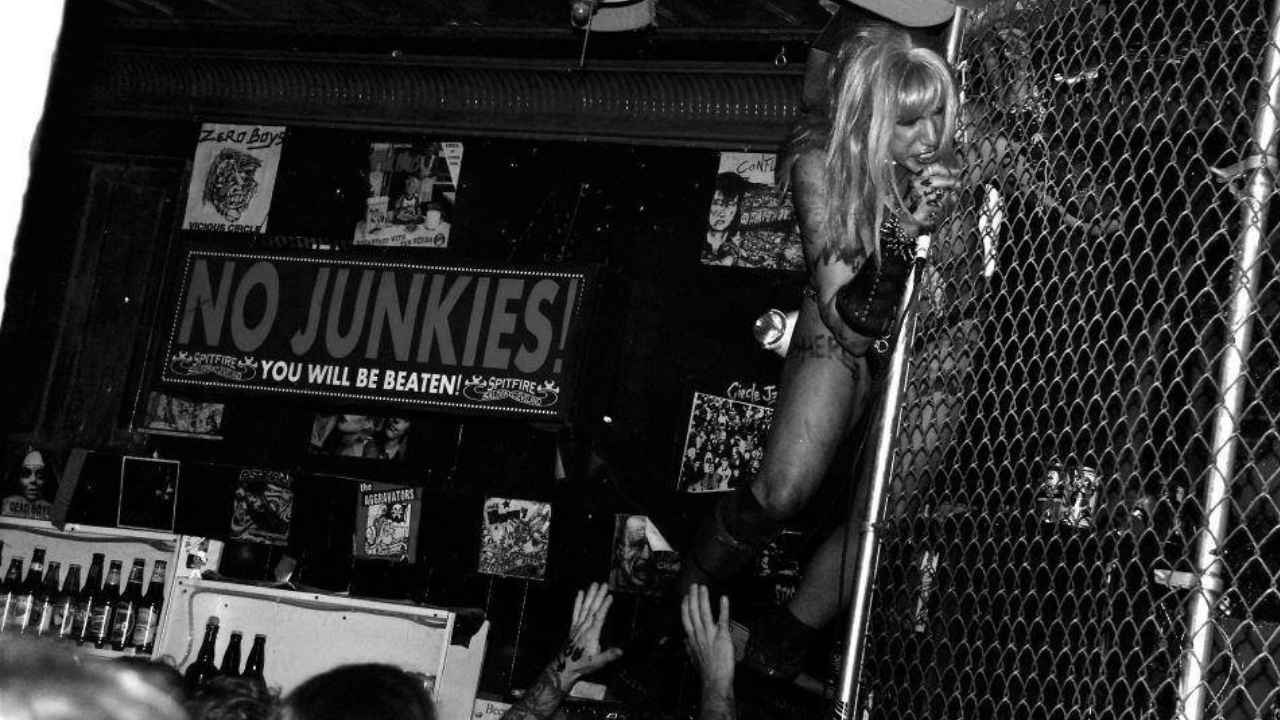 Glitter Trash
What do you do when your life is swirling down the toilet and all seems lost? You start a punk band, of course! GLITTER TRASH, on the surface, appears to be a typical classic punk band. If you peel back the leather jackets and take a deeper look, the band is truly a hybrid of many forms of rock including glam, classic punk, hard core punk, classic rock, metal and even 50's rockabilly. Born in Detroit in 2010, the band's chassis was built on the same musical assembly line as The Stooges, MC5 and Alice Cooper and was also heavily inspired by early 70's glam, and late 70's NYC and UK punk.
GLITTER TRASH founder Jenna James Mullins started the band as a creative outlet during a very troubled time in her life. Jenna's anger, frustration and self-destruction were on full display in early music and stage shows. Out of nowhere, the group entered the Detroit music scene like a massive tsunami with their over-the-top high energy and turbulent stage shows causing a buzz wherver the band played. Audiences and photographers became enamored with the band's primal proto punk sound and stage show that provided a treasure trove of images that reflected the wildest years of long gone 70's classic punk. During this time, the band released their first album, "Wreckage", now a very rare sought after CD with only 300 copies released in 2011.
As seasoned guitarists cycled into the band in Detroit, the sound went from its raw primal bar chord roots, written by self-taught musician Jenna, to a more complicated and structured sound. During this time, the band collaborated with famed Detroit music producer Mike E. Clark (Insane Clown Posse and Kid Rock) and released a split 45 on Detroit's New Fortune Records #033 titled "Basquiat (Monkey Man)", a song about Jean-Michel Basquiat's struggles with NYC's primarily white dominant art scene. Also at this time, the band began touring overseas and became a regular at Rebellion Festival in Blackpool, England, opening up their music to a global audience.
In 2017, Jenna reformed the band and moved to Los Angeles. With pro-level LA musicians at the helm, the band quickly jumped back onstage to play LA's historical Viper Room and Whiskey a Go Go. Recording at Pawn Shop Studios in Van Nuys under engineer Patrick Burkholder, they recorded the songs "Hustlin" and "Can't Sleep (Chopper Song), releasing a portion of it for digital release with Die Laughing Records in a limited agreement. In late 2018, the band started recording with Engineer/Producer Robert Lowndes at Center Staging in Burbank to complete a full album. With 10 songs fully recorded and in mixing, an internal argument occurred resulting in the loss of the bands guitarist and drummer in late 2019, thus scrapping a year worth of efforts in the studio. Within a week, Jenna and bass player Jesus Rauda (Curanderos) brought in Max D'Anda (Symmetry and Phem) on drums and Drew Champion (The Split Seconds) on guitar. The band quickly rebounded and jumped back onstage in early 2020 until the growing pandemic shut down the Los Angeles music scene.
In mid-2020, guitarist Champion decided to move back home to Washington DC, and drummer D'Anda was moved to guitar. The band acquired Justin McGrath (Dollyrots) on drums. Writing new material in 2021, the band recorded at Kitten Robot Studios in Los Angeles under the legendary musician and producer Paul Roessler, recording a 4-song EP. In 2022, GLITTER TRASH joined the Riot Records roster and is scheduled to release a 5-song EP.