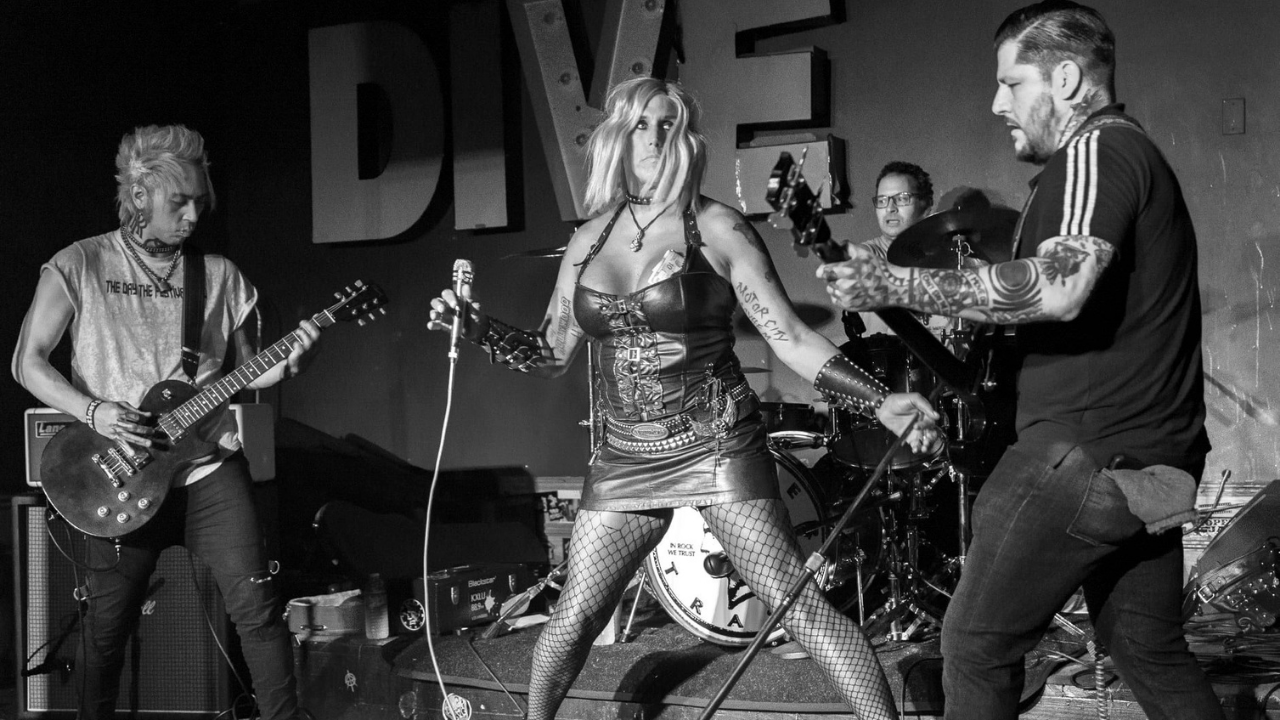 GLITTER TRASH
With a million bands roaming the planet, only a select few can make folks stop and stare when they walk into the room. GLITTER TRASH is one of them. Many will take a look at 6-foot tall, blue-eyed, blonde hair statuesque singer Jenna James Mullins and cast a quick judgement or have preconceived notions about what's about to happen before they step onstage. But when bassist Jesus "Rowdy" Rauda and guitarist "Max D'Anda" pick up their guitars and flip the juice on to their amps, as drummer Justin "Big Daddy" McGrath starts to hit skins, all those judgements and preconceived notions quickly vanish.  
Born in Detroit, MI USA, GLITTER TRASH take off where their stage burnin' forefathers, The Stooges and MC5, left off. Are they proto punk, '77 punk, post-punk, rockabilly, straight up metal or rock 'n roll? Check all of them off! Their songs heavily inspired and reflecting on all aforementioned styles, GLITTER TRASH attacks the stage in a purist proto punk Motor City style full of energy, rage and rawness that sucks in the entire audience. As Jenna has frequently stated "You aren't giving the audience a show unless you are dumping your guts onstage". The band's music moves seamlessly through decades of rock styles, primarily blending a '77 punk sound with Randy Rhoads style guitar licks popping out in leads or sneaking up on you in the bridges. The bass guitar effectively winds through the songs like Funk Brothers Motown magic, weaving through the songs bottom line unlike the usual 1-2-3-4 minimalist punk bass punch. The drums tightly attach to the bass guitar for the ride, creating a pounding rhythmic sound comparable to the heartbeat-of-the-city cadence in a busy automotive plant cranking out cars. 
Now located in Los Angeles, CA, USA, GLITTER TRASH is an internationally seasoned band with large stage festival experience. Even though you can find them happily ripping it up in a punk rock dive, the band excels during their large stage appearances, being voted twice on Uber Rock Magazines list of "Best Punk Gigs of 2015" after their UK Tour and Rebellion festival appearance. Most recently in August of 2021, the band recorded at famed LA punk Paul Roessler's digs at KittenRobot Studios in Los Angeles. The band feels they have finally found a producer that firmly understands and respects what the band is trying to convey in sound and presentation. You can find their new EP Going to Mars through Riot Records, part of Golden Robot Global Entertainment Group, headquartered in Sydney, Australia.  
GLITTER TRASH IS: 
Jenna James Mullins - Vocals, songwriter, lyricist
Jesus "Rowdy" Rauda - Bass guitar, backing vocals, Songwriter
Max "Mr. Nimbus" D'Anda - Guitar, song composition
Justin "Big Daddy" McGrath - Drums, backing vocals, Songwriter