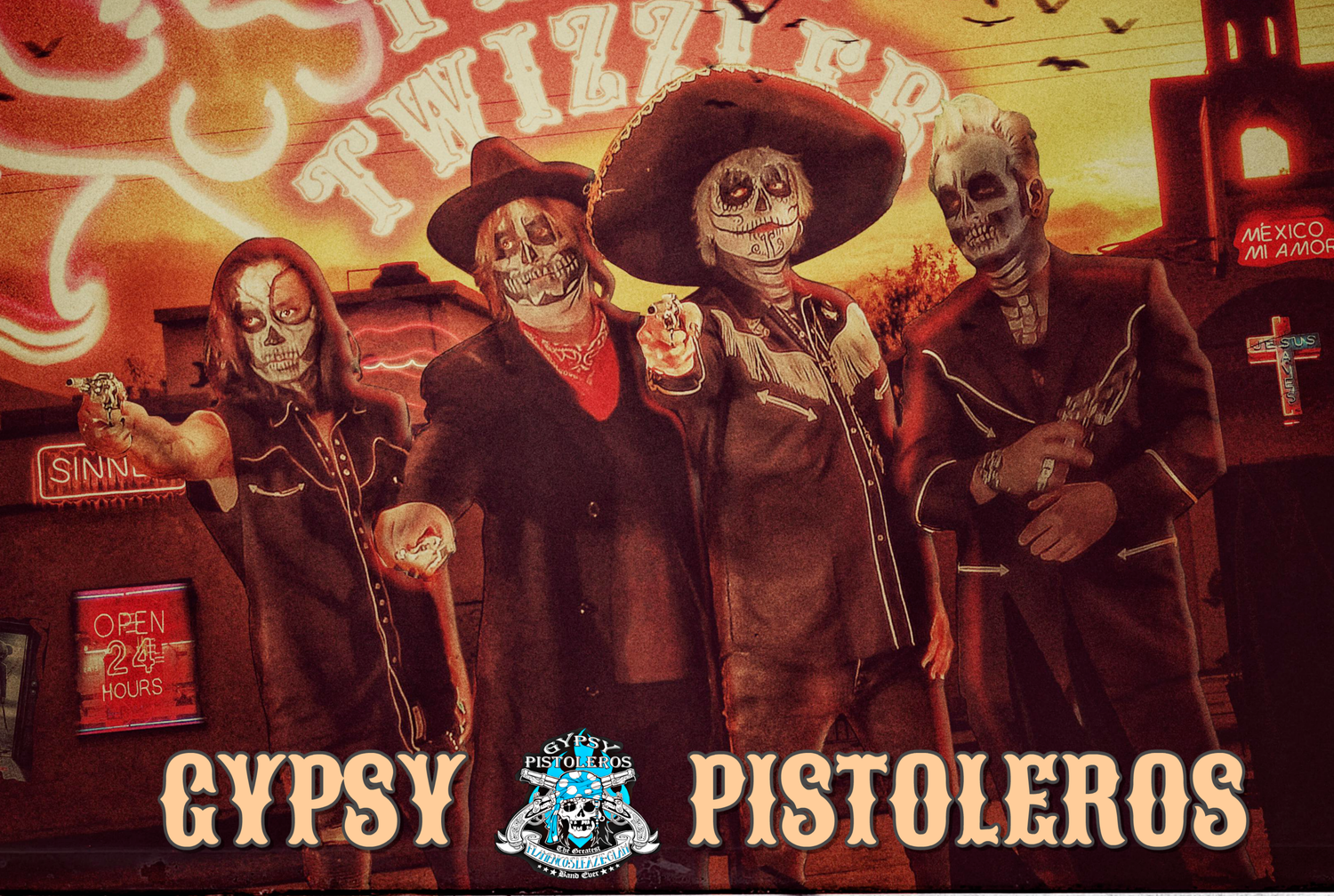 Gypsy Pistoleros
Gypsy Pistoleros are still something truly unique and interesting in today's predictable musical landscape. A sound and style that mixes sleazy glam punk rock with flamenco influences.
Exactly the music we like to see on RIOT Records, expect the unexpected.
Gypsy Pistoleros may be best described as being the ideal house band for the fictitious Titty Twister bar of Rodriguez's From Dusk Till Dawn. Between the nods to Morricone's tense, tumbleweed atmospheres and the Gypsy Kings' manic Mediterranean energy, a New York Dolls raw glam spark and a surplus of prime G 'n' R attitude, the Pistoleros' sonic style has roots has a widespread as the global fanbase it's been gathering since they began playing in 2005. 
The sound is flamenco in a head on collision with punk/rock riffs, pounding bass and thrashing drums. The songs span madly in the best rock 'n' roll tradition with big hooks, attitude, and sleaze. Yet those flamenco breaks got into your head and refused to leave - this hybrid rocks.  
This mongrel offspring of fiery flamenco passion and gritty gutter glam, the Gypsy Pistoleros' were born roamin' somewhere between Barcelona and Birmingham, brought into the world to a soundtrack stack-heeled anthems of sleazy '70s America. Standing alone in musical ancestry and sum sound, they were one one of those most rare acts who can honestly claim the tag 'unique'.  
The insane inspiration came from frontman and songwriter Gypsy Lee Pistolero who began wielding this unique sound whilst living in Zaragoza (Spain) whilst supporting The Ramones and Motorhead in 1993 & 1996. 
The Gypsy Pistoleros have always had a reputation for danger and played five Rocklahoma festivals 2007-11, in Oklahoma, USA , where they  appeared alongside Motley Crue, Guns n Roses, Poison, ZZ top, Twisted sister, Faster Pussycat, Vain, Papa Roach, Whitesnake, Skid Row, Black Label Society.
Normally closing each night! 
They have toured extensively, playing with the likes of The Ramones, L.A. Guns, Faster Pussycat, Adler's Appetite, UFO, Dio, Motorhead, Ratt, Dogs D'amour, Vain, Dirty Penny, Wrathchild, Vains Of Jenna, Twisted Sister, Poison, Vince Neil, Bang Tango, Skid Row, Slaughter, Faster Pussycat, Dokken and ZZ Top.Gypsy Pistoleros are -  
Gypsy Lee Pistolero – Vox, bad rumba guitar
Mark Westwood  (Shadowland, Clive Nolan, GLP) – Great Guitars,
Gaz Le Bass - double Bass – Bass B.Vox
Jan Vincent Vellazo (Pendragon, Ghost, PIG) – Drums  http://www.jan-vincentvelazco-drums.co.uk/index.htm
Kris Jones - Trumpet
Gypsy Pistoleros Reviews:
"The Pistoleros are sheer musical escapism" – Malcolm Dome Classic Rock Can I just say that this album is one of the stand out moments for me this year, great vibes going on in this and it's this weeks featured album of the week on Mark "Pedal To The Metal" Parker MMH
 "Gypsy Pistoleros are a thrill-a-minute collection of melodic eye-patch swagger that smells of exotic spices and forbidden concubines. The Gypsy Pistoleros sound like Hanoi Rocks, if Hanoi Rocks were sultans and snakecharmers." - Sleazegrinder-Classic Rock Magazine 
"As crystal and ballsy as the local chapter of the Hells Angels, if  The Angels were playing at a Mexican wedding fantastic stuff with gritty Mexican dust and magic oozing from every pore." - Shane, The Rockpit
"Do yourself a favor and pick up a copy…and find out why the Gypsy Pistoleros are the single most inventive band of the last decade." – Allyson, Bring Back Glam 
"This, actually, is as good as sleaze ever got in the last decade… and the 12 years that has passed done nothing to dissuade me from the opinion I used to have back then. Gypsy Pistoleros were, and still are, a breath of fresh air. You will never hear another band like this. They are the greatest flamenco sleaze glam band ever. And that's just a fact. If you don't believe me, listen to this."
Rating 9/10 Maximum Volume Music - Andrew Thorley*******Album of the Week - Can you imagine Sleaze, Glam, Hard Rock, Punk and some Flamenco rolled into one with a whole lot of Spanish attitude oozing out it?Imagine no more - The Gypsy Pistoleros will give it all to you, and you will love every minute of it and want to reach for a tequila shot.- ***** Michele Storm Hairspray Heaven***** Formed in 2005 the GYPSY PISTOLEROS have been carving out a unique niche for themselves in the crazy world of rock n' roll. From the New York Dolls to Guns N' Roses via El Bronco the Gypsy Pistoleros have got a stunning TexMex thing going on. A career spanning retrospective has been long overdue and it's finally arrived in the aptly titled 'THE GREATEST FLAMENCO GLAM SLEAZE BAND EVER!'A compendium that shows why the Gypsy Pistoleros are the undisputed kings of Flamenco Sleaze this album should definitely be in your collection and is a fine precursor to their brand new album 'The Mescalito Vampires!' dropping next year.  **-Pulse Alternative Magazine
"I'm not sure how it came about but Gypsy Pistoleros have come up with an interesting, individual sound and there just isn't anything else like it. As exotic as rock n roll can get." ***** Jonni Starr,  DirtyRock.net 
"The Gypsy Pistoleros have been the talk of the town in Hard Rock circles for a few years now and all the accolades are well deserved." Heavy Metal Addiction 
Discography- En la Vida Real- Evil Boy records (2005) 
Wild, Beautiful, Damned! (2007) Evil Boy Records - Produced by the legendary Joe Gibb ( Catatonia, The Cure, Jaynes Addiction, Madonna, Funeral for a friend, The Kinks, etc.) Recorded at Mighty Atom Studio, Swansea, Wales
Gypsy Pistoleros  PARA SEMPRE!   was released JANUARY 24th 2008 . Released by BAD REPUTATION Records ( France ) 
Second album 'Welcome to the Hotel de la Muerte!' was released October 12th 2009 on Bad Reputation! http://www.badreputation.fr/produits 
Para Siempre (2008) Bad Reputation Records (France) & Blastzone/Nightmare Records (U.S.A)
Duende: Last Of The Pistoleros (2011) 100% Rock (Australia) Gypsy Pistolero
Forever Wild, Beautiful & Damned! – Greatest Hits Volume 1 (2012). Heavy Metal Records
The Good, the Mad and the Beautiful (2012) - Evil Boy Records  Gypsy Lee Pistolero
The Greatest Flamenco Glam Sleaze band ever! (August 2020) - GRR/ Riot Records  Released to critical acclaim & has over 500,000 plays to date**The Mescalito Vampires** (2021) on GRR/Riot Records is released in July!!! First single 'Lost in a Town called Nowhere' is on pre-sale 12th Feb