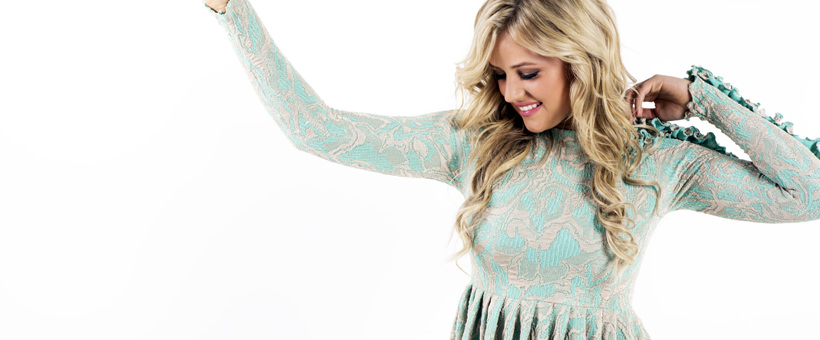 Abbie Ferris (Distro only)
Rising country pop artist, Abbie Ferris, has released her debut 6-track EP, Ready or Not, out now across digital platforms. 
Ready or Not is a journey that begins with a wide-eyed country girl and her first crush and ends with a 22-year-old woman stepping into the world. In a purposeful order, these songs take you through Abbie's experiences track by track, as she learns about the ups and downs of life and love – it's honest, fun and a little bit cheeky! Each story was written or co-written by Abbie herself and bought to life by producer, Michael Carpenter at Love Hz. 
READY OR NOT EPTRACK LISTING
For a Moment
Beat You at Your Own Game
Love Up On Me
Bad Boy Crush
In My Levi's
Ready or Not (feat. The Dungarees)
EP TRACK BY TRACK
For A Moment, Abbie's debut single, was co-written by Abbie with her producer Michael Carpenter, and Canadian artist, Amy Nelson. It's a song all about the fun and freedom of being a teenager discovering the dating scene and embraces a modern country sound, to tell the story of youthful excitement, passion and love that depends on a single moment to be or not to be. 
Beat You At Your Own Game was also co-written with Michael Carpenter. The second single from Abbie, the lyrics depict a very personal experience, where Ferris, as an impressionable teen was conditioned to believe she should settle for less than her true value. It shows a strength of attitude within a young woman, as she takes up the life-long challenge to prove her doubters wrong.
Love Up On Me was co-written with Troy Kemp and is a song about growing up being full of ups and downs - some big and some small - and many firsts. The first time we drive a car, our first full pay slip and of course our first love. The track relives the exciting, flirty and often bumpy nature of a first relationship. The roller-coaster of love and hate moments that neither of you have ever ridden before, many of which are inconsequential in the greater scheme of things. This song is about that one person you can't stay mad at purely because of your underlying love and affection.
Bad Boy Crush was co-written with Troy Kemp and Jeremy Barnes.  It's a song about having an uncontrollable fixation on someone you shouldn't…
In My Levi's is the only track on the EP yet to be released as a single (to radio).  It was written completely by Abbie and is about embracing what makes you you - and is Abbie in a nutshell…a true-blue country girl who also loves to get dolled up for a girl's night in the city. The song acknowledges her roots and her newfound love of the big city in a fun upbeat mix of modern country sounds.
Ready or Not (Abbie's new single) is a song for anyone ready to stake their claim in life and was co-written with multi-award winning Canadian country stars, The Dungarees, (who also feature on the track, seamlessly blending the best of classic country with modern hooks and energy). It tells the story of that time, that moment, when Abbie decided to take control and commit to chasing her dreams in music. Emerging from her teens in a small South Australian country town, the time was right to grab life with both hands and take on the world. Metaphorically, the song chronicles growing up with the pressures of today's society, becoming independent, moving across the country for career opportunities, and finding her voice as a woman. 
Get the Ready or Not EP here:
Digital - https://orcd.co/abbieferris-readyornot-ep
ABOUT ABBIE
Abbie Ferris is the definition of a true-blue country girl. She grew up on a 90-acre farm in the South Australian town of Mallala. From an early age, music and the great outdoors were mainstays in Abbie's world. Her father worked the sale yards and Abbie was on horseback by the time she could walk. Soon after, she fell in love with music, picked up a guitar and started honing her craft as a singer-songwriter. 
Abbie was awarded the Market the Music 'Emerging Artist Scholarship' in 2017. This led to an appearance on the Country Music Channel (CMC) Awards red carpet wearing a custom made RACY & LUCKY gown (Lady Gaga, Regurgitator & Emily Wurramara) and a festival debut at the Groundwater Country Music Festival. Having cracked into the festival circuit in her debut year, Ferris followed up with performances at Country at the Camp and Australian Music Week later in 2018, she also got her first taste of life on the road, touring with Australian Idol star Hayley Jensen. In late 2019 Abbie was earmarked to support Golden Guitar winner Kirsty Lee Akers on her 'Small Town, Big Hearts' 2020 tour, until COVID-19 killed the 31-date tour. This will be revisited in 2022 once the pandemic has (hopefully) abated. 
Ferris has now released four singles to radio, 'For A Moment' in 2018, 'Beat You At Your Own Game' in 2019, and now two tracks in 2020  'Love Up On Me' and 'Bad Boy Crush'. Each release has seen Ferris improve her chart position, with the most recent release reaching #21 on the Official Airplay Chart and #3 on the Kix Country Hottest 20. Quite a feat for a youngster from regional South Australia, paving her way as an independent artist. 
Her music video impact was identified by CMC (now CMT) who have charted all her videos to date.  Ferris was also featured in The Music Network's annual interview with CMC Program Director Tim Daley. Daley named her as one of four artists to watch in 2019, a wonderful vote of confidence in her early career traction. Her music videos have now achieved more than 300,000 views online. 
In the streaming arena, her tracks have been added to Spotify's 'Fresh Country' and Apple Music's 'Aussie Country' playlists. To date her releases have clocked up nearly 550,000 streams combined. 
December 2019 saw a brief departure from original music as with the release of a concept EP 'The Five – My Teens' based on a re-imagining of the five songs that have influenced Abbie's journey as an artist through her teens. After the success of that release, Ferris turned her focus to her debut original EP, Ready or Not, and also relocated to the Central Coast in New South Wales. 
Over the COVID-19 period, Abbie has written via video conference with some of the finest Australian, American and Canadian songwriters, with a load of songs ready to record over the coming years.