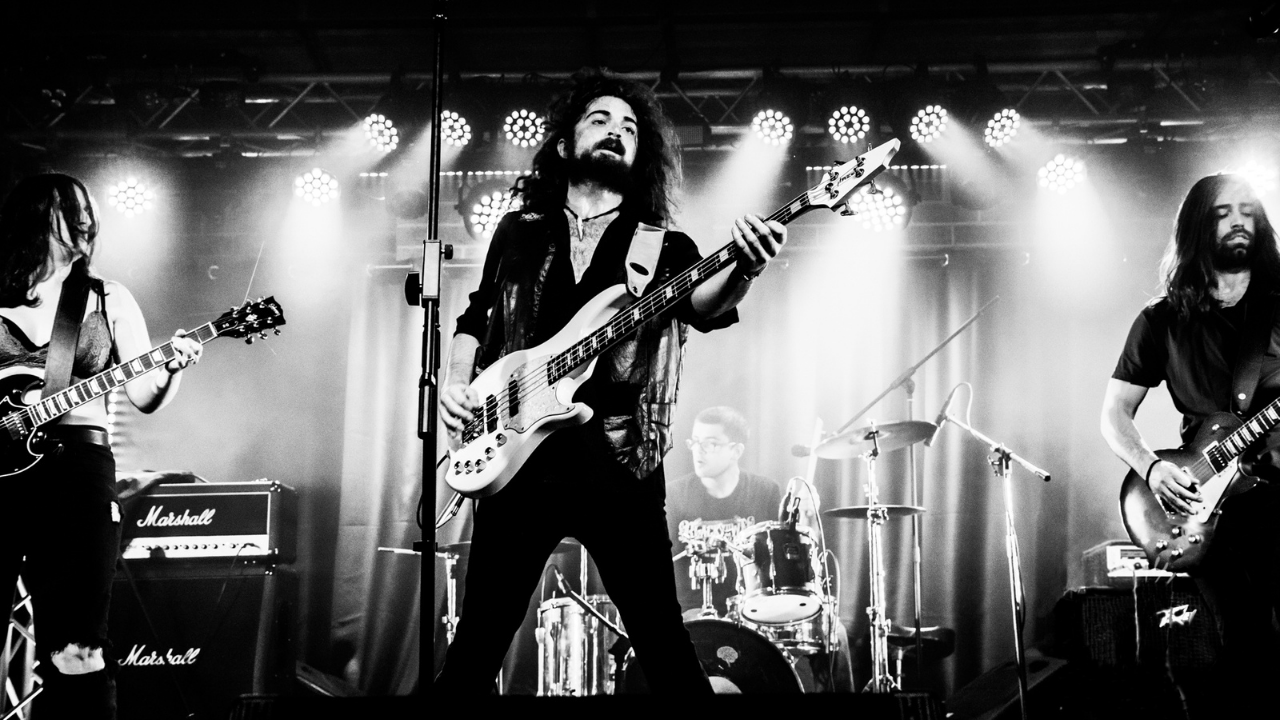 Avalanche
Avalanche are 4 misfits from Sydney's west, playing electrifying, roof-crashing, piss-off rock n' roll for a new generation. They first started playing and rehearsing music together in a old steel factory in 2018, and after just 2 short years, they've firmly cemented themselves into the sticky floors of the national underground scene, with 4 releases, major national & international airplay, their own music festival, and a signature sound & live show which routinely leaves the audience covered in blood, sweat and spit.
Avalanche are hard rock. Real honest to God hard rock, as only 20-somethings from Sydney's West; famous for producing tradies, drongo's and long-arse Centrelink queues; can do. Their unique sound is tinged by the influence of their dad's record collection and the dirty pub rock of Australia's past, but played through the interpretation of their own generation.
The band is comprised of the sheer force of nature that is lead vocalist and bassist Steven Campbell; incessantly sweating, running, jumping and screaming all over the stage whilst stripped to the waist. He is often seen doing the motions of 'cumming' on the audience with his bass and on lead guitarist and soon-to-be wife, Veronica 'V' Taleski; a tall, dark and aggressively powerful guitarist. A mass of shaggy black hair in a bra and ripped jeans, with a Gibson SG constantly by her side. She is bound by neither space nor convention, often playing her blistering guitar solos on the floor, on the barricades, in the crowd and even outside. 
Musically, combined with the air tight rhythm section of Ryan Roma aka 'ADHD' on drums and 'new guy' (not really) and life of the party, Arthur Divis (ask your girlfriend) on Rhythm guitar, the band produce a massive, raw, ball tearing sound unlike any other.The band signed to XRAY Records, as part of Golden Robot Records at the start of the year to bring their latest single and music video release 'Permanent Ink' to a worldwide audience, joining the ranks of such acts as L.A. Guns, Vanilla Fudge, Rose Tattoo, Electric Mary, Palace Of The King and more. They held their single release at Frankie's Pizza on March 7 performing to a packed out room; headlining Melb heavy rock giant's Kingswood's 'Juveniles' album launch. 
The single has since reached almost 5k streams on Spotify and the music video over 23k views on YouTube and 102k+ on Facebook. Additionally, the band's very first EP 'Sent From Hell', a wild rock n' roll debut about sin, sex, drugs and damnation released in May 2019, has sold over 1200 physical copies worldwide, spearheaded by their international distributor Sliptrick Records. With it, the band completed the 'Sent From Hell Tour' which saw them joined by over 50 of the country's most kickarse bands and musicians in the finest music venues across the east coast. The tour culminated in Avalanche of Rock Fest, the band's own bi-annual music festival at Crowbar, Sydney, which saw them booking and supporting major local acts such as, C.O.F.F.I.N., The Darrans, Screaming Eagle, Eightball Junkies and more.
The band have enjoyed repeated airplay on over 150+ national and international radio stations, online podcasts and Spotify playlists for all their releases including Homegrown, 3RRR, Valley FM, ABC Illawarra, VOX FM and more, as well as media features, interviews and reviews in Happy Mag, Heavy Mag, The Music, The Sydney Morning Heralds and more.
Now the band plan to release their follow up single 'Get Back (To Fuckwit City)' on Nov 16th, in lead up to their upcoming EP. It's a raw, punchy, anthemic ode to the band's hometown and the often-fascinating civilians which reside in it.
With their high energy, piss of Rock n' roll, Avalanche continue their bloody, sweaty on-stage rampage, giving no fucks and winning new fans every time they play.