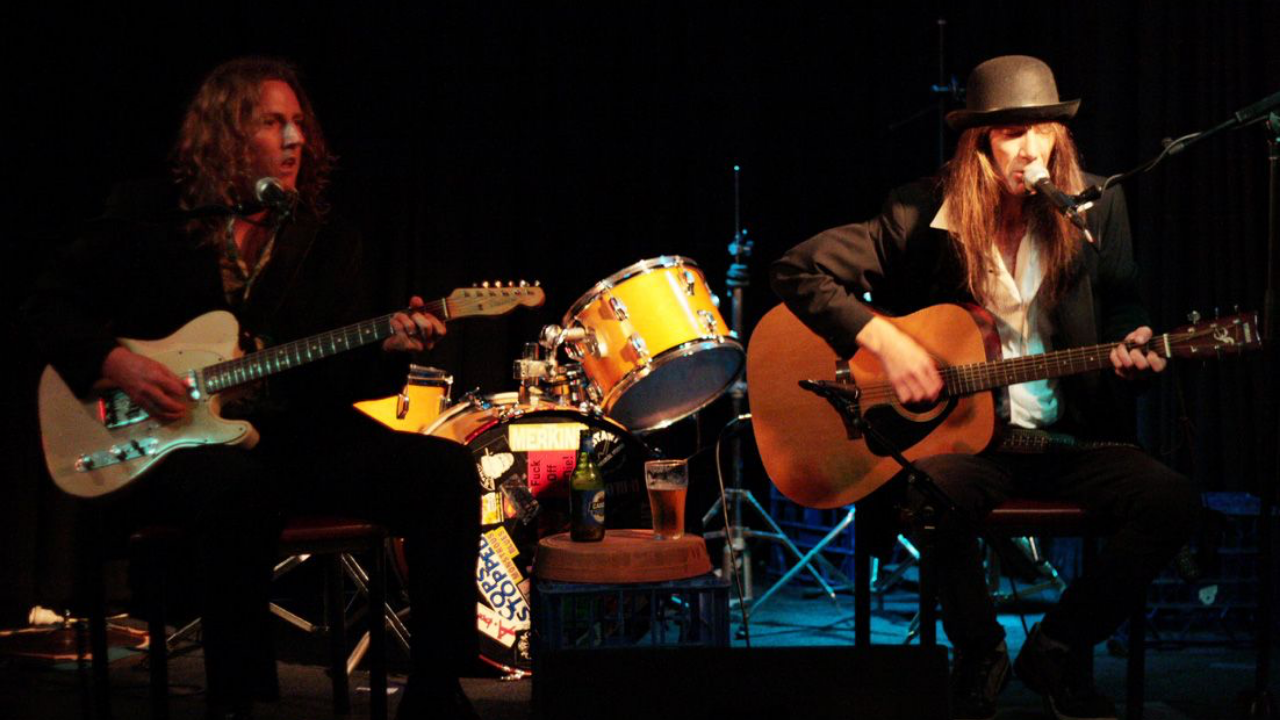 Beyond the Stars
Beyond the idols, beyond the known universe and beyond the superficiality of tabloid celebrity and mainstream culture, there exists a musical creation devoted to the gritty dark reality of life and the celebration of despair and loneliness - they call themselves Beyond The Stars. Two songwriters, two guitars, two voices – Tin Star (Stewart Cunningham) and Mong Star (Dave Mutton) collided less than spectacularly in late 2008, like the birth of a supernova nobody really noticed when they played some gigs and recorded their debut album "The Power to Kill" as a side project to their regular musical day jobs in Leadfinger and The Nice Folk.
The two stars have an impressive underground history existing as they do in a world beyond the stars and money of the mainstream. Beyond The Stars is a musical project unlike anything they have done before, drawing from the deepest wells of roots, folk and alternative sounds to deliver a twisted celestial blues brewed in the suburbs of Australia. Mong Starand Tin Starwrite of the emotions and degradation of life on the margins and inject a perverse musical humour to ease the pain, (an Australian tradition reaching back to the first fleet and the old dart before that).
The Power to Kill is the first album from this unique songwriting partnership. Some background info on the members of Beyond the Stars - Tin Staraka Stewart 'Leadfinger' Cunningham has played too much kick arse guitar and worn lots of cheap stage get ups over the last 20 years, he started out in the Proton Energy Pills and went on to play in Asteroid B-612, Brother Brick, The Yes Men, Challenger-7 before forming Leadfinger in 2007, with whom he has released 3 albums. He first met Mong Star when he produced the debut album for The Nice Folk in 2008.
Mong Star aka Dave Mutton -born in hell & raised in the gutter, a sick, twisted and somewhat perverse singer/songwriter and founding member of punk bands -Page One, Mutton, Wotstinx and The Carcinogenics, he formed The Nice Folk in 2006 with whom he has release an album and EP. He first met Tin Star when he let him produce the debut album for The Nice Folk in 2008.