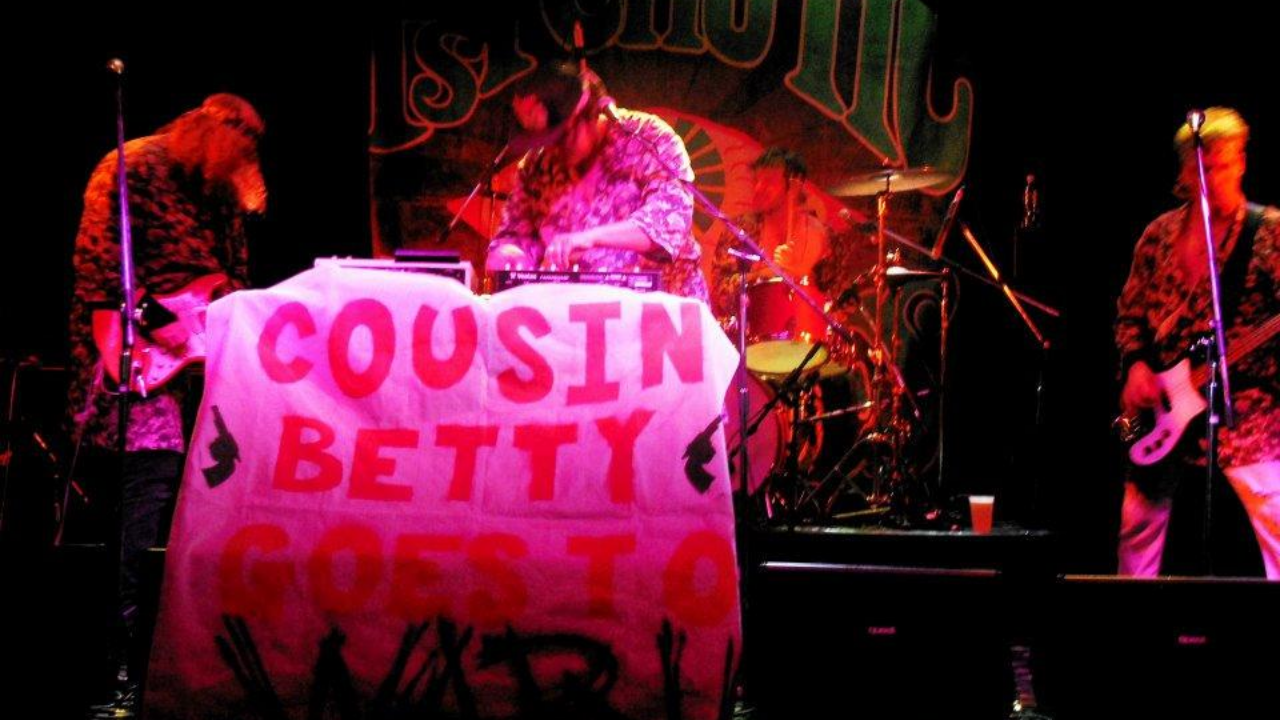 Cousin Betty
Who is Cousin Betty?
Damien Stofka (guitarist/songwriter), has created riffs and written songs for Molten Universe, Death Mattel, LITTER and various other projects for the last 15 years.
Less interested in a standard line-up and the logistics required to be in a functioning band and also inspired by the Desert Sessions, he spent his downtime compiling albums worth of material with contributing artists and performers he liked.
From these sessions micro-bands would form to present these songs live; touring with such bands as The Psychotic Turnbuckles, Doc Neeson and The Lime Spiders –having also used their rhythm section to record with.
While the recordings have featured several musicians, the core live line-up has comprised of Frontman Matt Downey (Death Mattel) and rhythm sections comprised of Pat Walker (Ohms, Methusela), Tony Bambach (Lime Spiders, Aberration), Ged & Tom Corben (Lime Spiders) and Chris Drane (Cash Savage, Cherrywood). The line ups and shows have varied for each tour to include a DJ, visuals and themed stage sets.
**Why Cousin Betty? **
While holidaying in Nth America, Damien discovered a book in Portland of old-English slurs. He was particularly tickled by "Cousin Betty" a term used to demark an hysterical woman [likely derived from the heroine in Cousin Bette –a French novel 1846 wherein a woman is driven mad with jealousy and becomes unhinged and vengeful].  
In an effort to reclaim the term as something more adventurous and less maligning, he set about writing a series songs in celebration of an aged grandmother-type who would fight entire armies, conquer new planets and wrestle crocodiles.
These concepts would take even greater shape after purchasing a series of "Sound Effects" vinyl in Seattle. The initial plan was to incorporate these soundscapes and samples into the concepts like Cousin Betty Goes to War/ Cousin Betty Goes to Space etc. Sessions were only ever demo-ed but the tours would be themed around them, making for theatrical shows; entertaining beyond the normal scope of a live band.
**What is Cousin Betty? **
During the most strict period of the pandemic lockdown, Damien began communicating with other artists and was inspired to try and make something more consistent of his vision. A friend from Canada; equally bored and in want of inspiration, asked Damien for some of the files from his old sessions to re-mix and produce.
The tones and richness of these efforts were the motivation Damien needed. As the restriction lifted on local travel, he took some recording equipment to Matt Downey's house.
There, while there 6 year olds entertained themselves on computer games, Matt, his partner Katie Jane and Damien finished Lizard Queen and 4 other songs in mere hours.
Gone now was the restrictive concept of theming and it meant that songs could tackle any topic.
While that meant a slight direction change for his initial vision, Damien still felt a great attachment to the journey of his Cousin Betty –a Matriarchal Maverick who'll live on in memory only.
These new songs will form the LEFT E.P, Cousin Betty's debut, released via Golden Robot Records  Early 2021 grab Tape Hiss and Drone now on all Digital Platforms.