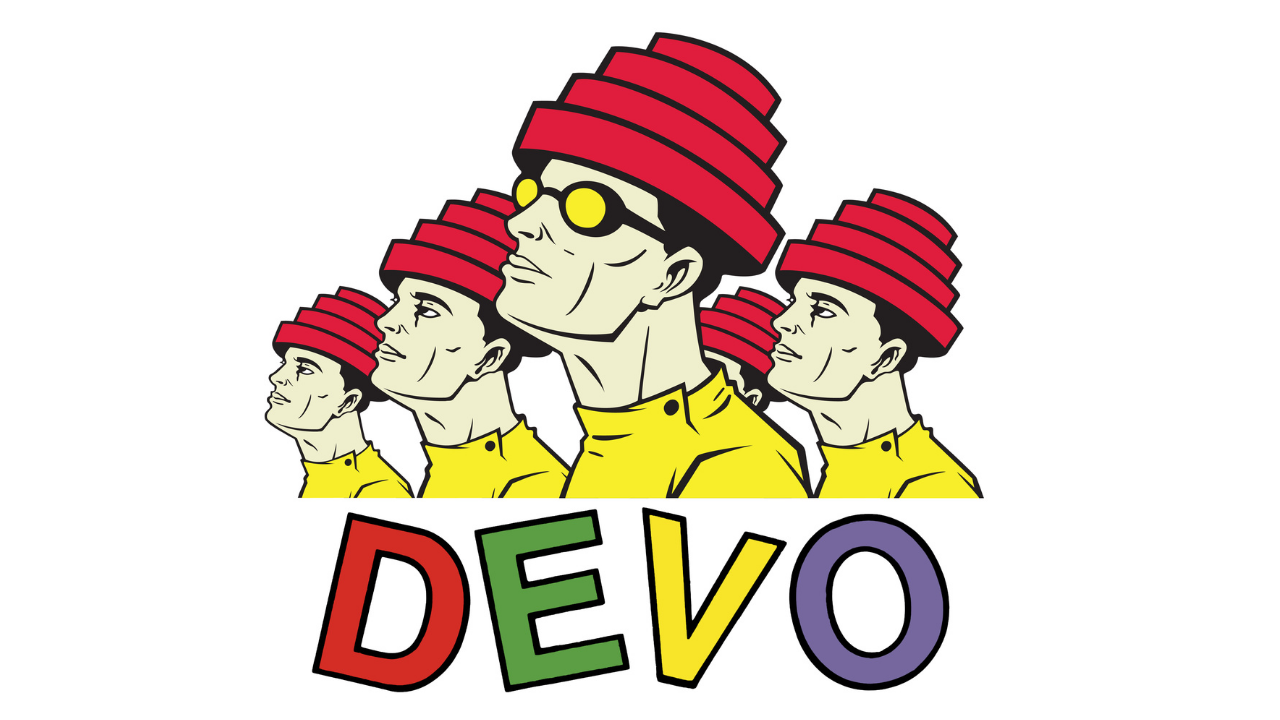 DEVO
SO much has been written and said about DEVO and the legend continues…
Quite simply they are an American rock band from Ohio , formed in 1973.
Their classic lineup consisted of two sets of brothers, the Mothersbaughs (Mark and Bob) and the Casales (Gerald and Bob), along with Alan Myers.
The band had a No. 14 Billboard chart hit in 1980 with the single "Whip It", the song that gave the band mainstream popularity and gave them a career.
DEVO music and stage shows mingle kitsch science fiction themes, deadpan surrealist humor and mordantly satirical social commentary. Their early, pre-Warner Bros. dissonant songs use synthetic instrumentation and time signatures proven influential on subsequent popular music, particularly new wave, industrial, and alternative rock artists.
Devo (most enthusiastically Gerald Casale) was also a pioneer of the music video, creating clips for the LaserDisc format, with "Whip It" getting heavy airplay in the early days of MTV.
Recommendations from David Bowie and Iggy Pop enabled Devo to secure a recording contract with Warner Bros. in 1978.
After Bowie backed out of the business deal due to previous commitments, their first album, Q: Are We Not Men? A: We Are Devo! was produced by Brian Eno and featured re-recordings of their previous singles "Mongoloid" and "(I Can't Get No) Satisfaction".
On October 14, 1978, Devo gained national exposure with an appearance on the late-night show Saturday Night Live, a week after the Rolling Stones, performing "(I Can't Get No) Satisfaction" and "Jocko Homo".
The band followed up with Duty Now for the Future in 1979, which moved the band more towards electronic instrumentation.
Devo gained a new level of visibility with 1980's Freedom of Choice.
This album included their best-known hit, "Whip It", which quickly became a Top 40 hit.
The album moved to an almost completely electronic sound, with the exception of acoustic drums and Bob Mothersbaugh's guitar.
The tour for Freedom of Choice was ambitious for the band, including dates in Japan, the United Kingdom, France, Germany, Italy, the Netherlands, and Canada
While 1979's Duty Now for the Future was another strong effort, the band broke through to the mainstream with 1980's Freedom of Choice, which contained the platinum-selling hit single, "Whip It", and represented a peak in their songwriting. The video for "Whip It" became an MTV smash, juxtaposing the band's low-budget futuristic look against a down-home farm setting and hints of S&M.
Oh, No! It's Devo followed in 1982. Produced by Roy Thomas Baker, the album featured a more synth-pop-oriented sound than its predecessors.
Devo released their sixth album, Shout, in 1984
DEVO's next two albums, New Traditionalists and Oh NO It's DEVO! continued their 1980's decade world touring success accompanied by the hit songs, "Beautiful World" and "That's Good" respectively. Shout was released in 1984, and Total Devo in 1988, followed by a live album titled Now It Can Be Told: DEVO Live at The Palace in 1989. After releasing a studio album entitled Smooth Noodle Maps in 1990 the band left the world of touring and recording to pursue film and TV projects.
In 1987, Devo re-formed with former Sparks drummer David Kendrick to replace Myers. Their first project was a soundtrack for the flop horror film Slaughterhouse Rock, starring Toni Basil.
The band released the album Total Devo in 1988, on Enigma Records. This album included two songs used in the Slaughterhouse Rock soundtrack. The song "Baby Doll" was used that same year in the comedy film Tapeheads, with newly recorded Swedish lyrics, and was credited to (and shown in a music video by) a fictitious Swedish band called Cube-Squared. Devo followed this up with a world tour, and released the live album Now It Can Be Told: DEVO at the Palace.
Followed by Two albums of demo recordings from 1974–1977, namely Hardcore Devo: Volume One (1990) and Hardcore Devo: Volume Two (1991), were released on Rykodisc, as well as an album of early live recordings, DEVO Live: The Mongoloid Years.
In January 1996, Devo performed a reunion concert at the Sundance Film Festival in Park City, Utah. The band performed on part of the 1996 Lollapalooza tour in the rotating Mystery Spot.
On these tours and most subsequent tours, Devo performed a set-list mostly composed of material from between 1978 and 1982, ignoring their Enigma Records-era material.
The Lollapalooza tour was received well enough to allow Devo to return in 1997 as a headliner. Devo performed sporadically from 1997 onwards.
Others found DEVO's sound, imagery, and material threatening; Rolling Stone, for example, called the group fascists. But such criticism missed the point: DEVO dramatized conformity, emotional repression, and dehumanization in order to attack them, not to pay tribute to them.
Devo were nominated for induction into the Rock and Roll Hall of Fame in 2018, 2021 and 2022.
Golden Robot Records and DEVO are now joing forces to bring a very special Vinyl and Digital Release in September 2022 , Stay tuned for more details.