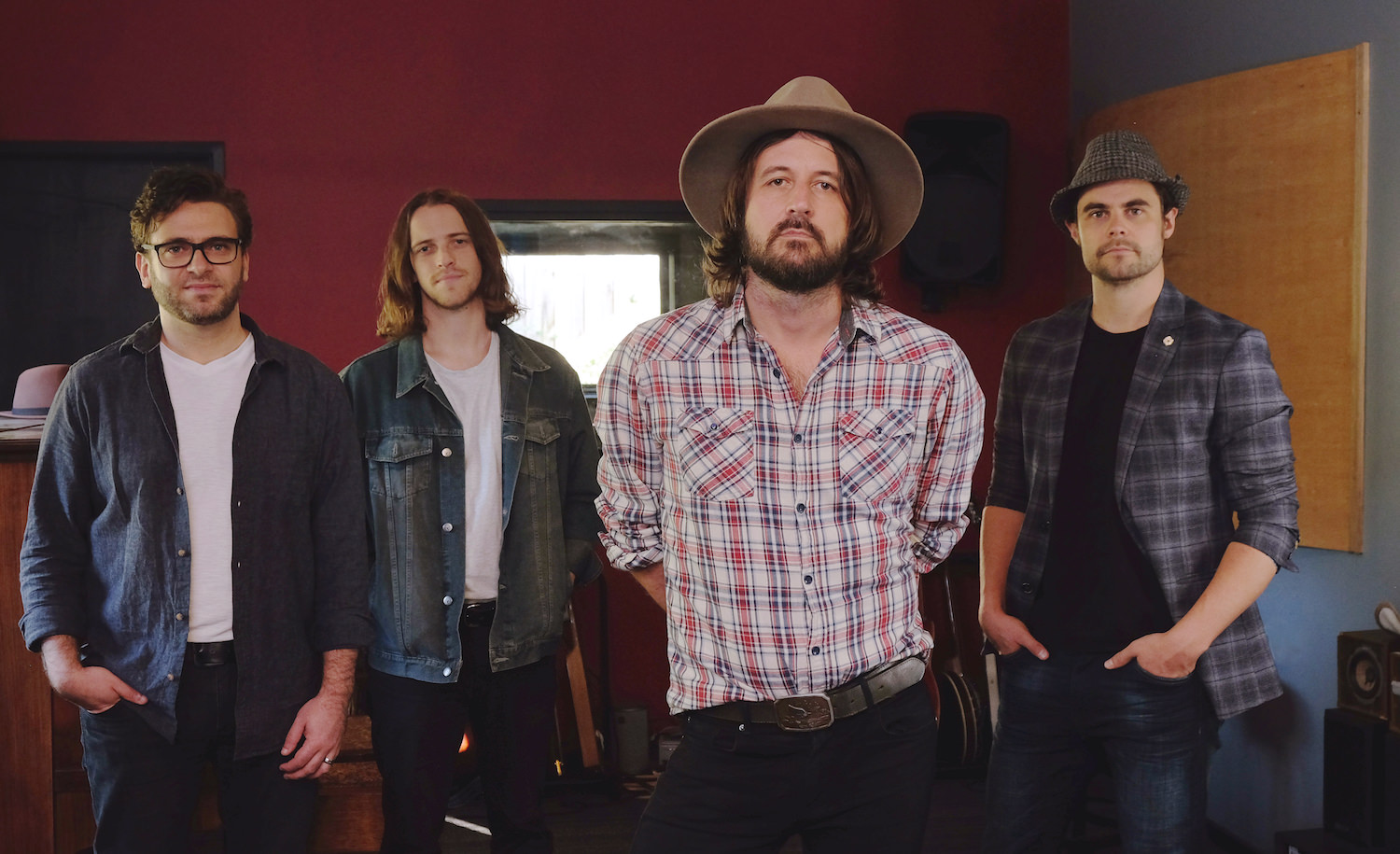 Lachlan Bryan and The Wildes
Lachlan Bryan and The Wildes are a difficult band to pin down. A little bit country, a little bit folky and a tiny bit rock n roll, they've built a cult following of loyalists who'll argue that LB is a master songwriter and storyteller, and that the band's raggedy, eccentric performance is completely unique. Yet ask the guys themselves and they'll tell you they're just a handful of wandering troubadours, worshipping at the altar of Dylan, Waits and Wilco.
They flirted with mainstream attention on their 2014 record Black Coffee, which won a Golden Guitar and scored the band a #1 position on the ARIA Albums chart - and they've spent the ensuing years consistently earning critical praise whilst playing small clubs and festivals around the world.
Nearest Misses Live is, for all intents and purposes, a 'greatest hits collection', that happened to be captured fairly accidentally back in 2019 - not that long before the world went into lockdowns and meltdowns. The recordings spent a year on the backburner before being lovingly brought to life by the band's guitarist and producer Damian Cafarella.
"These recordings really caught us in our best form", says Lachlan Bryan, "and I don't think we really appreciated that at the time. It's a set of audience favourites and we played them really well - we couldn't be prouder of how they've come up".
Following a year of gig-starvation, Lachlan Bryan and The Wildes' Nearest Misses Live provides a heartwarming and uplifting representation of a very fine band at the peak of their powers - whetting the appetite for a live-music-filled future. The album was released in April, 2021.
AS LONG AS IT'S NOT US is the latest studio record from Lachlan Bryan and The Wildes.
It's hard to talk about anything right now without mentioning Covid 19, but suffice to say that this record was started before the pandemic started, and completed before the pandemic finished. The first single, You Remind Me of Myself, came out over a year ago, scoring high rotation on Double J and ABC Country, as well as a bunch of spins on all the community stations that Lachlan and the band are very fond of.
That song hinted at a different direction for the band's sound, and listeners will immediately notice this record pushes the definition of 'country' or 'Americana' music just about as far as it can be pushed. You won't hear a banjo, a mandolin or a harmonica here, but you will find wigged out guitars, distorted pianos and even the occasional drum machine. It's a singer- songwriter science project.
The recording was done 'in-house' at Wildes HQ, the increasingly popular End of the Road studios, south of Melbourne. The band all live near the beach (St Kilda and Edithvale) but thankfully it doesn't show in the music. Lachlan, Damian and Shaun played, sampled and programmed all the instruments – beginning the job in late 2019 and finishing in June 2021.
The writing credits are a little more evenly spread than on previous LB and The Wildes records – with 'new kid' Riley Catherall (a very fine emerging bartist in his own right) getting a guernsey, bassist Shaun Ryan and guitarist/producer Damian Cafarella contributing strongly and 'outsiders' Tim Rogers and Harmony James contributing their substantial wit and wisdom respectively.
Despite the new sound, and the different methodology, the songs are LB and The Wildes most intensely personal to date. They take in break-ups, isolation, depression (sometimes of the manic variety) and a series of ongoing existential crises' – and show the band at both their most jubilant and most despairing – all within around 38 minutes. Released on 17 September, 2021.
ABOUT
Golden Guitar winning trio, Lachlan Bryan and The Wildes grew up in the south-eastern suburbs of Melbourne, but quickly gravitated to the thriving inner-city music scene. They recorded and released their debut record a decade ago with ARIA-winning producer Jonathan Burnside (who's now back on board as the band's mastering engineer), and since then have released a stream of critically acclaimed albums and singles, picked up a handful of awards and toured the world.
Authenticity and credibility have always been at the forefront for LB and The Wildes – and they've carved themselves a niche as pioneers of the new wave of Alt Country in their homeland, whilst still finding time to headline Country, Roots and Folk festivals on the other side of the planet, which they intend to go back to post-covid.