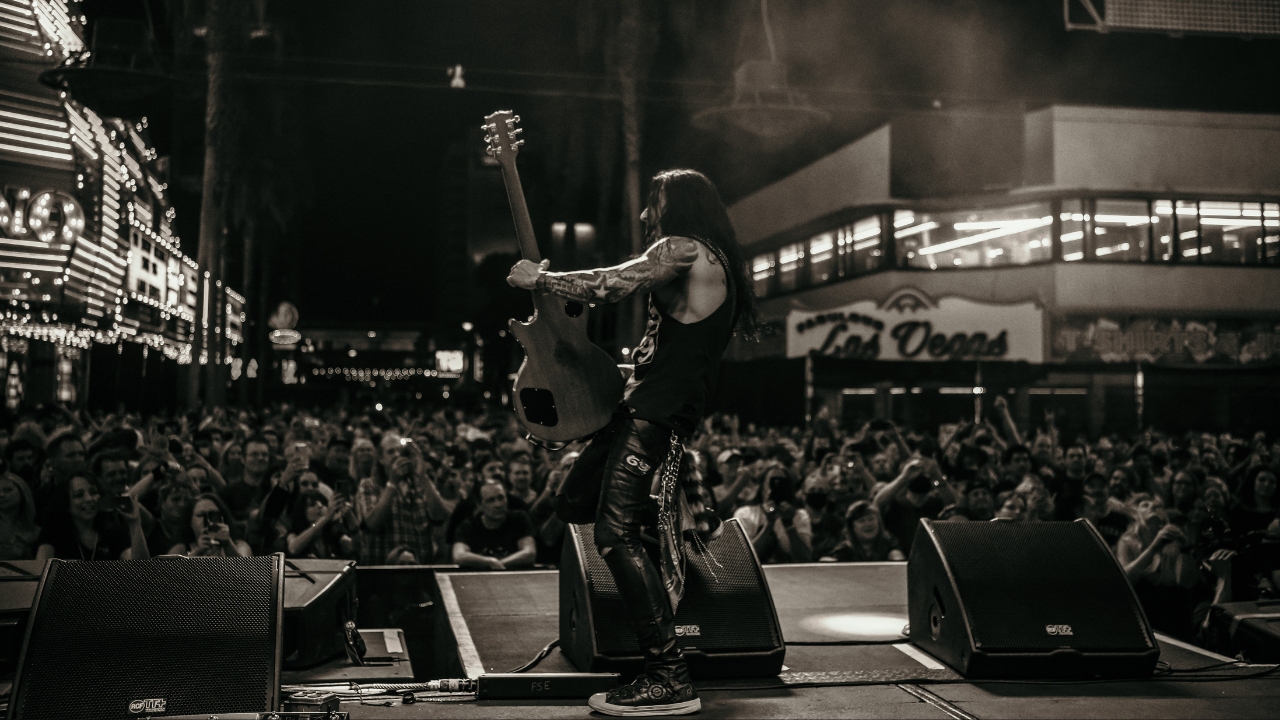 **Michael Thomas **
It's a long way to the top if you wanna rock n' roll…
Truer words have never been spoken. For Michael Thomas that journey would start atthe age of 12 by picking up his first guitar and jamming along to the albums of most of the artists he would one day work with. At 17 he moved from Northern California to Los Angeles determined to make his mark. After a few years of playing the Hollywood circuit his first break to the big stage came with ENGINES OF AGGRESSION(Priority Records). Upon returning from a tour of Japan his next venture with BEAUTIFUL CREATURES (Warner Bros.) would team him in the recording studio with legendary producer Beau Hill. After extensive touring Michael decided it was time to do his own project where he wrote, played, sang, mixed and produced…he aptly named his new band FASTBACK. Completing the record and a U.S. tour lead to a call from the notorious L.A. based FASTER PUSSYCAT (Full Effect Records) in which Michael toured the globe and recorded a live record with the group in Australia. Mixed in with these duties he also began to work with Steven Adler of GUNS'N'ROSES.
Michael would eventually make the band with Steven, ADLER'S APPETITE, his main priority by penning the Music & Lyrics to the song "ALIVE" that would accompany Steven's New York Time's Best Selling autobiography "My Appetite for Destruction". The single made its world premiere on The Howard Stern Show and was featured on ESPN, MTV and VH1 among others. Shortly after, Michael started a new project BLACKHEART SAINTS, which he developed to fulfill his creative need for a music style with a harder, melodic edge. Electric & acoustic performances with BLACKHEART SAINTS continue to grow between touring and recording with his established artists.
After numerous world tours Michael took another step forward joining ANCHORED, which lead him to the world famous NRG Recording Studios. Working with renowned producer Jay Baumgardner (Linkin Park, Papa Roach, Bush) they completed their debut album and a Single/Music Video w/ rap icon Snoop Dogg. Upon completion of the record touring cycle Michael received a call from Dallas, TX based BRAND NEW MACHINE to join them for tour dates including shows overseas with GUNS'N'ROSES. Following the tour Michael wrote and recorded the album "The Devil Made Me Do It" with the band and Ryan Green producing (Cheap Trick, Megadeth). The release of the record saw the band on tour with Trapt, Drowning Pool, Volbeat, and HIM. Upon completion of the Brand New Machine touring cycle, Michael received a call to work with Danique van der Valugt, of The Voice, for extensive touring and recording in Europe.
Fast-forward to 2017, Michael renewed his duties with legendary drummer Steven Adler for a tour of Australia, with former American Idol alum Constantine Maroulis at the microphone. When the band returned stateside, they embarked on a series of U.S. shows, including a seven-day run on the high seas with KISS, The Darkness, and Warrant for KISS Kruise IX. Michael and the band continue to tour, in addition to his feature film and television contributions.