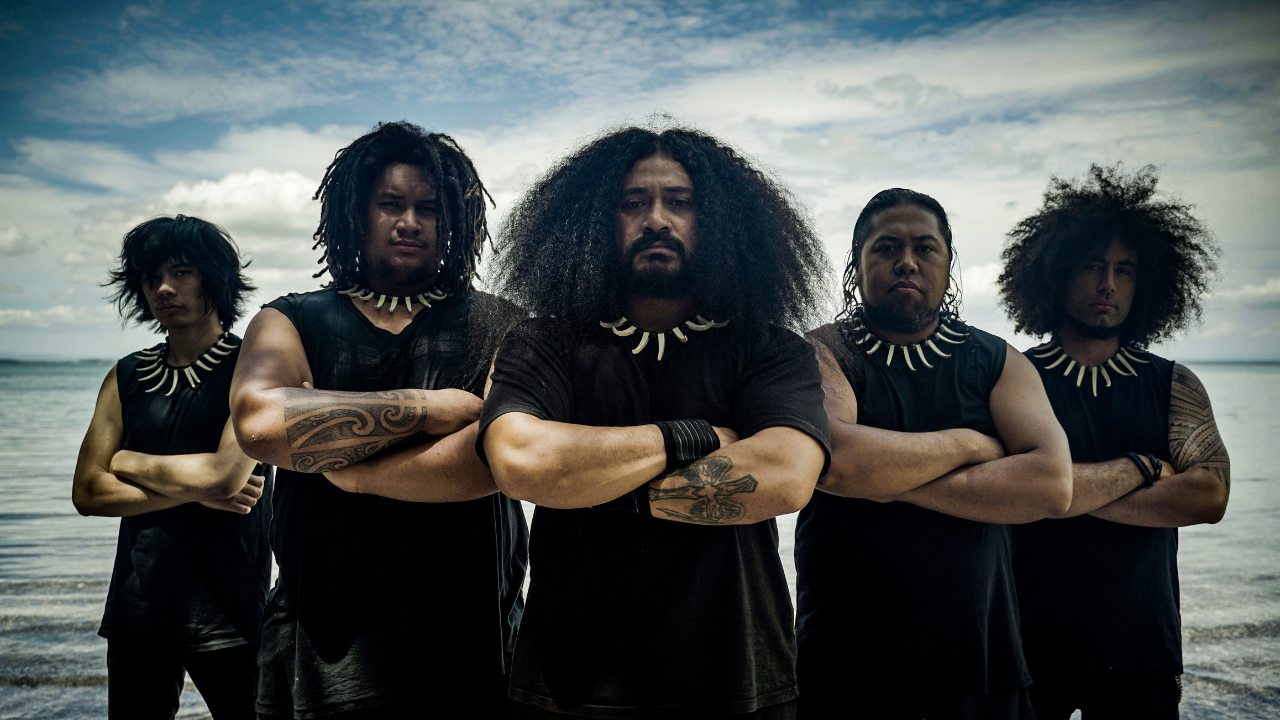 SHEPHERDS REIGN
Tribal. Supremely talented. Fiercely noble. Richly proud. Shepherds Reign are bringing their house to your ears, mind and heart, their power and passion unequivocal, their musical voices luminescent and majestic.
You'd do well to start paying attention…
Hailing from South Auckland New Zealand, and thus Polynesian by birth and blood, Filiva'a James (vocals and keytar), Gideon Voon (guitar), Oliver Leupolu (guitar/production), Shaymen Rameka (drums) and Joseph Oti-George (bass) are not playing games. Shepherds Reign is life, Shepherds Reign is survival, Shepherds Reign is mental and physical health and Shepherds Reign is what they are on this planet to do. Their voice is their mighty, fearsome music and their vocation is to share with the world every aspect of lives and cultures deserve the international ear. Whether unleashing the raw, guttural tribal roar of "Aiga" or the biker-rough riffery which is "End of The Trial", there is a special passion and power in every single note Shepherds reign share with the world, a rare presence which demands the world stage.
Shepherds Reign carry a motivation and execution which defies logic. Their videos have become a thing of independent heavy metal/hard rock legend, with narratives and production values which embarrass many an established international act, and in a covid19 era, they have managed to amass nearly 3 million YouTube views with the video for "Le Manu", whilst "Aiga", released on December 5th 2020, has already amassed over 350,000 views.
As for their live show, Shepherds Reign are famous in Australasia for their primal performance, one which evokes many aspects of their cultural heritage and fierce Polynesian pride. There's the enormous intimidating presence of James, a towering hulk of humanity adorned with the shark tooth necklace (as are all the band members) who demands your full attention and gets it. Then there's the gargantuan riffs and twisting dual melodies of Voon and Leupolu, whose virulent virtuosity is undeniable. Rounding out the sound is the crushing, bombastic Rameka/George rhythm section, which gives Shepherds reign their propulsive, dynamic metal sound.
Here's the truth.
Whether you choose to engage or not, Shepherds Reign's raw passion, determination and sheer goddamn talent is going to be bringing them to major international stages worldwide as covid19 is wrangled. Theirs is an inevitable journey. You'd be doing yourself a favour to get on-board now before the train's left the station and you're kicking yourself black and blue…
Shepherds Reign and Golden Robot Records have now joined forces and will bring you new music in 2023 - this will be one massive event.