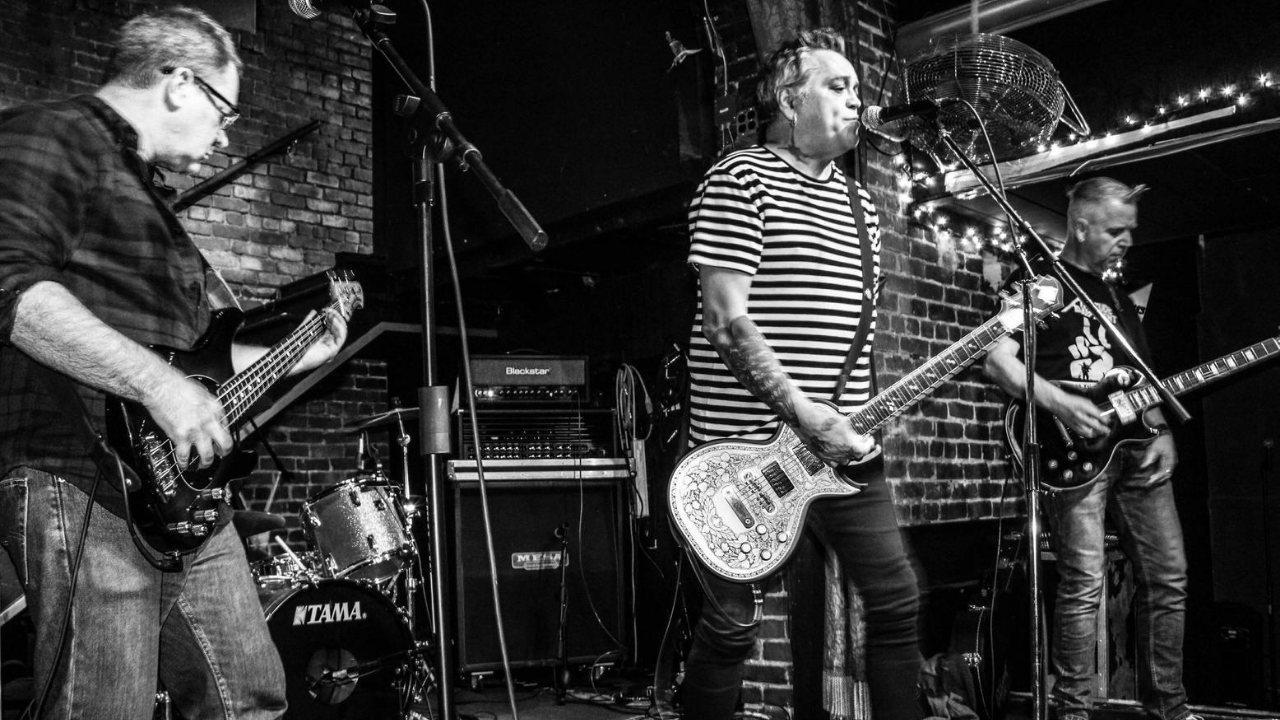 Screaming Bloody Marys
The Renaissance
Screaming Bloody Marys (SBM) are a San Francisco Bay Area punk band formed in late 1988 by singer/songwriters Roger Migdow (aka Spider) and Dave Dalton. Migdow and Dalton previously performed together in another band from the San Francisco punk scene, Dick and Jane, with Linda XYZ, formerly of Alienation. Dick and Jane shared the stage with the likes of Johnny Thunders, Green Day, The Melvins and The Dwarves.
Joining Migdow and Dalton in the original incarnation of SBM was Jeff Smoot on bass and Chris Sissy on drums. Sissy unfortunately lasted just one show, finding that he was actually scared of punk rock, which explained his surname to his crestfallen bandmates.
Sissy was immediately replaced by Paul Burch from the indie label Alternative Tentacles band Burning Image. A former bandmate of Dalton's, Wess Janes, from an earlier collaboration Beauty of Dogs, and a stint with GG Allin, was then added on lead guitar, moving Dalton from lead to rhythm guitar. After one tour, Janes left the band and was replaced on lead guitar by Juan Jesus.
At the time, Screaming Bloody Marys were Spider/vocals, Dalton/rhythm guitar, Jesus/lead guitar, Smoot/bass, and Burch/drums, a lineup that up would last 2 years.
SBM recorded on their self established label Die Laughing Records, and toured North America, Canada and abroad throughout the 1990's. They shared the stage with such notable bands as Nirvana, Soundgarden, The Adicts, The Ramones, Hole and L7, until 1998, when they disbanded.
The Reformation
At the end of 2015, thanks to Landon Gale from Covert Booking, Dick Manitoba from The Dictators, and Tim Armstrong from Rancid, The Screaming Bloody Marys were back!
Landon, the booking agent for The Dictators, asked Dalton to open a show at the legendary San Francisco club, Slim's, with an acoustic punk rock set. Dalton agreed, and as the show neared, Landon also asked other band members and friends to sit in for the show. As the show grew, Dalton saw this as an opportunity to reunite with his former bandmates, and reached out to them.
He called on Juan Jesus, as well as Hans Hunt, former bass player for The Undead SF, who had played stints on bass with SBM. With Burch unavailable, Dalton contacted Brian Tierney from The Gargoyles to sit in on drums. Now they just needed a singer, and a longtime friend caught Dalton's eye on Facebook, Angel X Stacy, from Venus Bleeding. Angel proved to be the missing link.
Once reunited, SBM did a couple of shows with that lineup, before being asked to play a special Gilman Street show in honor of the late Marian Anderson of The InSaints.Deciding he was done with punk rock, drummer Brian Tierney was a late scratch, and at that critical moment, Greg Langston, drummer for The InSaints, stepped into the breach.
After sitting in with SBM at the show, Langston decided to make himself at home, and a new era of Screaming Bloody Marys had begun.
The Now
Shortly after coming together SBM bass player, Hans Hunt, exited and was replaced by New Jersey transplant Ian Larkin. SBM enjoyed some exciting shows including the Moto Bay Classic on Pier 39 in San Francisco with The Vandals and TSOL, as well as opening The Dead Kennedys 40th Anniversary Show at the UC Berkeley Theatre.
After recording a 7" split with The Vibrators on Die Laughing Records, bass player Ian, departed and was replaced by John Hanson of the psychedelic band Savage Resurrection. An old friendship between Dalton and Danny Norwood of Social Unrest led to Norwood joining SBM on lead guitar.
The timing was perfect as front woman Angel was relocating to Oregon, leaving lead vocals open for Dave Dalton to take on the task and continue with rhythm guitar as well. The outcome has been an all star lineup of sorts, that feels like SBM was always working towards.
SBM's first appearance with Dalton on lead vocals was at the 2019 Crash Fest at the Oakland Metro Theatre, and was received to rave reviews. The band has hit the ground running and not looked back, ever since. SBM plans on recording a new album sometime in early 2021, while they wait for shows and festivals to return, after the devastating pandemic of 2020.
Die Laughing Records
Early in its formation SBM was unsure of ever getting signed to a label to manufacture and distribute their work. Migdow and Dalton immediately formed Die Laughing Records and begin recording material. The name "Die Laughing" came from a dog eared Russ Myers movie poster Dalton happened upon while he and Migdow were discussing forming their own label.
SBM did go on to be signed to many a label, including Dr. Dream Records and Sympathy for the Record Industry. Die Laughing Records is still operating today and in late 2019 merged with a global conglomerate Golden Robot Records out of Australia who are now proud to have SBM on their roster under Golden Robot Records.